One Hears
28th January 1938
Page 3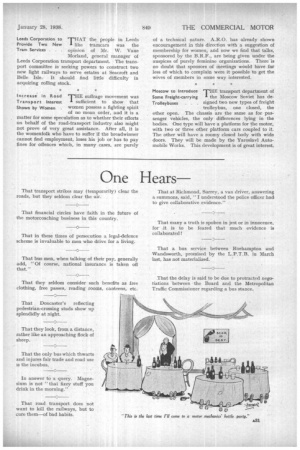 Page 3, 28th January 1938 —
One Hears
Close
That transport strikes may (temporarily) clear the roads, but they seldom clear the air.
That financial circles have faith in the future of the motorcoaching business in this country.
That in these times of persecution a legal-defence scheme is invaluable to men who drive for a living.
That bus men, when talking of their pay, generally add, "01 course, national insurance is taken oft that."
That they seldom consider such benefits as free clothing, free passes, reading rooms, canteens, etc.
That Doncaster's reflecting pedestrian-crossing studs show up splendidly at night.
That they look, from a distance, rather like an approaching flock of sheep.
That the only bus which thwarts and injures fair trade and road use is the incubus.
In answer to a query. Magnesium is not "that fizzy stuff you drink in the morning."
That road transport does not want to kill the railways, but to cure them—of bad habits. That at Richmond, Surrey, a van driver, answering a summons, said, "I understood the police officer had to give collaborative evidence."
That many a truth is spoken in jest or in innocence, for it is to be feared that much evidence is collaborated !
That a bus service between Roehampton and Wandsworth, promised by the L.P.T.B. in March last, has not materialized.
That the delay is said to be due to protracted negotiations between the Board and the Metropolitan Traffic Commissioner regarding a bus stance.