Operating Aspects of
28th January 1938
Page 29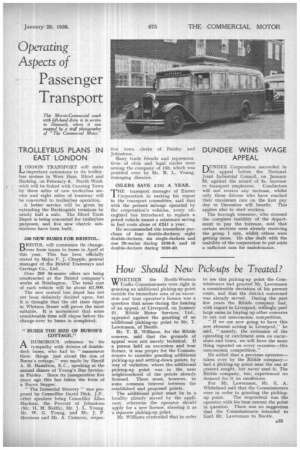 Page 29, 28th January 1938 —
Operating Aspects of
Close
• Passenger Transport
TROLLEYBUS PLANS IN EAST LONDON
LONDON TRANSPORT will make important extensions to its trolleybus system in West Ham, Ilford and Barking, on February 6. North Woolwich will be linked with Canning Town by three miles of new trolleybus service and eight miles of tramway will be converted to trolleybus operation.
A better service will be given by extending the Barkingside terminus by nearly half a mile. The Ilford Tram Depot is being converted for trolleybus purposes, and five new electric substations have been built.
200 NEW BUSES FOR BRISTOL.
BRISTOL will commence its changeover from trams to buses in April of this year. This has been officially stated by Major F. J. Chapple, general manager of the Bristol Tramways and Carriage Co., Ltd.
Over 200 56-seater oilers are being constructed at the Bristol company's works at Brislington. The total cost of each vehicle will be about £1,800.
The new central bus depot has not yet been definitely decided upon, but it is thought that the old tram depot in Whitson Street will prove, the most suitable. It is understood that some considerable time will elapse before the change-over to buses is completed.
"BUSES THE SIZE OF BURNS'S COTTAGE."
ik HUMOROUS reference to his rt sympathy with drivers of doubledeck buses, who had to " manceuvre these things just about the size of Burns's cottage," was made by Sheriff A. M. Hamilton, K.C., speaking at the annual dinner of Young's Bus Service, in Paisley. Since its inauguration five years ago this has taken the form of a Burns Supper.
"The Immortal Memory" was proposed by Councillor David Dick, JP., other speakers being Councillor Allan Maclean, the Provost of Johnstone (Mr. H. M. Keith), Mr. J. L. Young, Mr. W. G. Young, and Mr. J. P. Morrison and Mr. A. Cameron, respec
five town clerks of Paisley and Johnstone.
Many trade friends and representa times of civic and legal circles were among the company of 150, which was presided over by Mr. R. L. Young, managing director.
OILERS SAVE £241 A YEAR. THE transport manager of Exeter Corporation in making his report to the transport committee, said that with the present mileage operated by the corporation's vehicles, every oilengined bus introduced to replace a petrol vehicle meant a minimum saving in fuel costs alone of £241 a year.
He reconunended the immediate purchase of four double-deckers; eight double-deckers, six single-deckers and one 20-seater during 1938-9, and 16 double-deckers during 1939-40.
DUNDEE WINS WAGE APPEAL
DUNDEE Corporation succeeded in its appeal before the National Joint Industrial Council, on January 20, against the award of 2s. increase
to transport employees. Conductors will not receive any increase, whilst only those drivers who have reached their maximum rate 'on the first pay day in December will benefit. This applies also to shed workers.
The borough treasurer, who stressed the complete inability of the department to 'pay the increase, said that certain sections were already receiving the group I rate, whilst others were getting more. He also dealt with the inability of the corporation to put aside a sufficient sum for maintenance.