How Should New Pick-ups be Treated?
28th January 1938
Page 29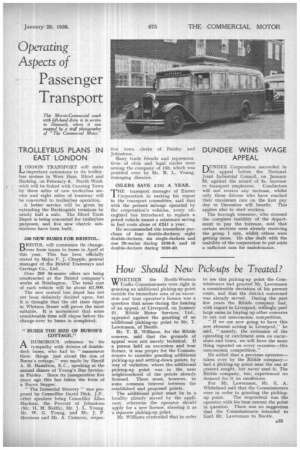 Page 29, 28th January 1938 —
How Should New Pick-ups be Treated?
Close
WHETHER the North-Western IN Traffic Commissioners were right in 'granting an additional picking-up point outside the immediate area of an excursion and tour operator's licence was a question that arose during the hearing of an appeal, at Liverpool, on January 21. Ribble Motor Services, Ltd., appealed against the granting of an additional picking-up point to Mr. T. Lawrenson, of Bootle.
Mr. T. R. Williams, for the Ribble concern, said that the grounds of appeal were not merely technical. If a person held an excursion and tour licence, it was proper for the Commissioners to consider granting additional picking-up and setting-down points, by way of variation, where the additional picking-up point was in the near neighbourhood of the points already licensed. There must, however, be some common interest between the established and proposed points.
The additional point must be in a locality already served by the applicant, otherwise the operator should apply for a new licence, showing it as a separate picking-up point. Mr. Williams contended that in order to use this picking-up point the Commissioners had granted Mr. Lawrenson a considerable deviation of his present route, and that the district concerned was already served. During the past few years the Ribble company had, with regard to Liverpool, willingly paid large sums in buying up other concerns to cut out uneconomic competition.
" If we are now going to have this new element arising in Liverpool," he said, "namely, the extension of the operating or catchment area on excursions and tours, we will have the same thing repeated on every occasion—this uneconomic competition."
He added that a previous operator—
taken over by the Ribble company— had a picking-up point near the one at present sought, but never used it. The Ribble company, too, experienced no demand for it on excursions.
For Mr. Lawrenson, Mr. E. A.
Whitehead said that the Commissioners were in order in granting the picking
up point. The respondent was the operator with his base nearest the point in question. There was no suggestion that the Commissioners intended to limit Mr. Lawrenson to Bootie.