Beating the Skid Bogy
28th January 1938
Page 28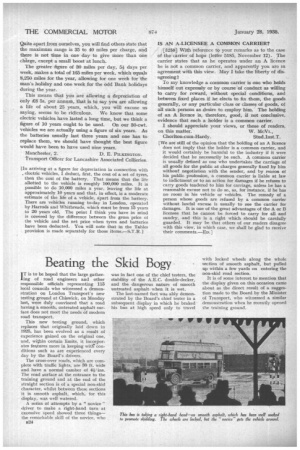 Page 28, 28th January 1938 —
Beating the Skid Bogy
Close
I T is to be hoped that the large gathering of road engineers and other responsible officials representing 115 local councils who witnessed a demonstration on London Transport's new testing ground at Chiswick, on Monday last, were duly convinced that a road having a smooth, untreated asphalt surface does not meet the needs of modern road transport.
This new testing ground, which replaces that originally laid down in 1925, has been evolved as a result of experience gained on the original one, and, within certain limits, it incorPorates features more in keeping witfi conditions such as are experienced every day by the Board's drivers.
The cross-over roads, which are complete with traffic lights, are 30 ft. wide and have a normal camber of 4' tins, The road surface at the entrance to the training ground and at the end of the straight section is of a special non-skid character, whilst between these sections it is smooth asphalt, which, for this display, was well watered.
A series of attempts by a " novice " driver to make a right-hand turn at excessive speed showed three things— the remarkable skill of the novice, who B24 was in fact one of the chief testers, the stability of the A.E.C. double-decker, and the dangerous nature of smooth untreated asphalt when it is wet.
The last-named fact was ably demonstrated by the Board's chief tester in a subsequent display in which he braked his bus at high speed only to travel with locked wheels along the whole section of smooth asphalt, but pulled up within a few yards on entering the non-skid road section.
It is of some interest to mention that the display given on this occasion came about as the direct result of a suggestion made to the Board by the Minister of Transport, who witnessed a similar demonstration when he recently opened the training ground.