National Dues too High ?
28th January 1938
Page 22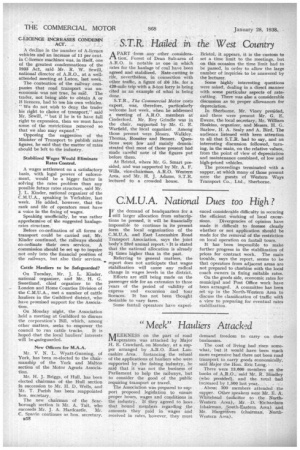 Page 22, 28th January 1938 —
National Dues too High ?
Close
IF the demand of headquarters for a I still larger allocation from subscriptions be pressed, it will be financially impossible to continue in its present form the local organization of the C.M.U.A. and East Lancashire Road Transport Association, says the joint body's 23rd annual report. 4, It is stated that the national allocation is already 2i times higher than in the past.
Referring to general matters, the • report does not anticipate that wages stabilization will cause any radical change in wages levels in the district. Efforts are still being made on the passenger side for an extension to three years of the period of validity of express and excursion and tour licences. It has not been thought desirable to vary fares.
Some fantail operators have experi enced considerable difficulty in securing the efficient working of local excur sions. Divergencies of opinion have made it difficult to foresee clearly whether or not application should be made for the removal of the restriction on local operation on fantail tours.
It has been impossible to make further progress in the stabilization of prices for contract work. The main trouble, says the report, seems to be that operators from adjacent areas are not prepared to cbmbine with the local coach owners in fixing suitable rates.
On the goods side, economic rates for municipal and Post Office work have been arranged. A committee has been set up in the North-Western Area to discuss the classification of traffic with a view to preparing, for eventual rates stabilization.