"Meek" Hauliers Attacked
28th January 1938
Page 22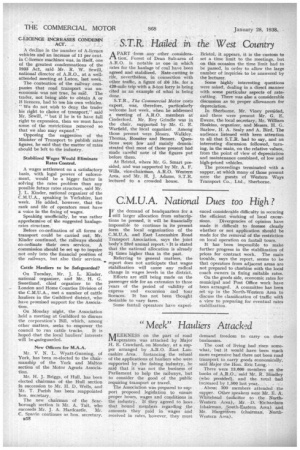 Page 22, 28th January 1938 —
"Meek" Hauliers Attacked
Close
Keywords :
NAEEKNESS on the part of road aloperators was attacked by Major H. E. Crawfurd, on Monday, at a supper arranged by A.R.O. East Lancashire Area. Instancing the refusal of the applications of hauliers who were supported by the fishing industry, he said that it was not the business of Parliament to help the railways, but to consider the good of the public requiring transport or travel.
The Association was prepared to support proposed legislation to ensure proper hours, wages and conditions in the industry. If they agreed to laws that bound members regarding the amounts they paid in 'wages and received in rates, however, they must demand freedom to carry on their businesses.
The cost of living had risen somewhat, but it would have been ranch more expensive had there not been road transport to carry goods economically; said Major the Hon. Eric Long.
There were 13,000 members on the books of A.R.O., said Mr. R. Hindley (who presided), and the total 'had increased by 1,500 last year. .
About 100 members attended the supper. Other speakers were Mr. E. A. Whitehead (solicitor to the NorthWestern Area), Mr. D. Richardsoa (chairman, South-Eastern Area) and . , Mr. Hargreaves (chairman, 'NorthWestern Area).