A PART from any other considera
28th January 1938
Page 22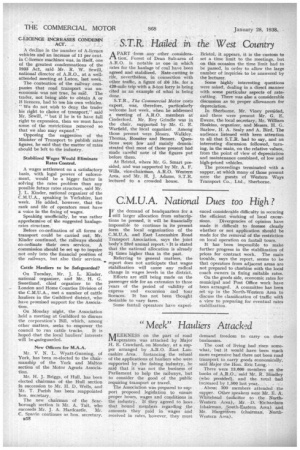 Page 22, 28th January 1938 —
A PART from any other considera
Close
tion, Forest of Dean Sub-area of A.R.O. is notable as one in which rates for the haulage of coal have been agreed and stabilized. Rate-cutting is rife, nevertheless, in connection with other traffic, a figure of £6 15s, for a 420-mile trip with a 3-ton lorry is being cited as an example of what is being done.
S.T.R., The Commercial Motor costs expert, was, therefore, particularly welcome last week, when he addressed a meeting of A.R.O. members at Cinderford. Mr. Roy Grindle was in the chair, supported by Mr. G. E. Warfield, the local organizer. Among those present were Messrs. Walkley, Thomas, Rossiter and Bennet. Questions were few and mainly demonstrated that most of those present had made careful note of the figures put before them, At Bristol, where Mr. G. Smart presided, and was supported by Mr. A. F. Wills, vice-chairman, A.R.O. Western Area, and Mr. H. J. Adams, S.T.R.
lectured to a crowded house. In Bristol, it appears, it is the custom to set a time limit to the meetings, but on this occasion the time limit had to be passed, in order to allow the large number of inquiriei to be answered by the lecturer.
Some highly interesting questions were asked, dealing in a direct manner with some particular aspects of ratecutting. There was also a considerable discussion as to proper allowances for depreciation.
In Sherborne, Mr. Viney presided. and there were present Mr. G. E. Ewens, the local secretary, Mr. William Hoskins, organizer, and Messrs. H. G. Barlow, H. A. Sealy and A. Bird, The audience listened with keen attention to all that S.T.R. had to say, and an interesting discussion followed, turning, in the main, on the relative values, from the point of view of depreciation and maintenance combined, of low and high-priced vehicles.
The proceedings terminated with a supper, at which many of those present were the guests of Western Ways Transport Co., Ltd., Sherborne.