A decline in the number of A-licence vehicles and an
28th January 1938
Page 22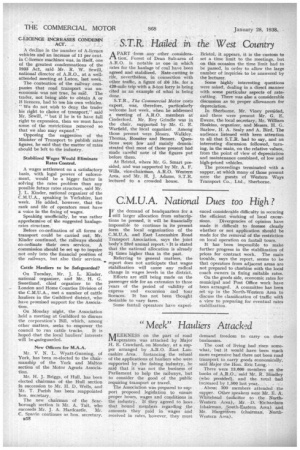 Page 22, 28th January 1938 —
A decline in the number of A-licence vehicles and an
Close
increase of 11 per cent. in C-licence machines was, in itself, one of the greatest condemnations of the 1933 Act, said Mr. R. W. Sewill, national director of A.R.O., at a wellattended meeting at Luton, last week.
The contention of the railway companies that road transport was uneconomic was not true, he said. The trader, not being able to obtain A or B licences, had to use his own vehicles. " We do not wish to deny the trader his right to choice of transport," said Mr. Sewill, "but if he is to have full right to expansion, then we must have some of the restrictions removed so that we also may expand."
Opposing the suggestion of the Minister of Transport to publish rates figures, he said that the matter of rates should be left to the industry.
Stabilized Wages Would Eliminate Rates Control.
A wages settlement on a satisfactory basis, with legal powers of enforcement, would be a bigger factor in solving the rates problem than any possible future rates structure, said Mr. J. L. Kinder, national organizer of the C.M.U.A., speaking in Yorkshire, last week. He added, however, that the rank and file of operators must have a voice in the fixing of wages.
Speaking unofficially, he was rather apprehensive of the suggested haulagerates structure.
Before co-ordination of all forms of transport could be carried out, Mr. Kinder continued, the railways should co-ordinate their own services. A commission should be set up to inquire not only into the financial position of the railways, but also their services.
Cattle Hauliers to be Safeguarded?
On Tuesday, Mr. J. L. Kinder, national organizer, and Mr" H. G. Sweetland, chief organizer to the London and Home Counties Division of the C.M.U.A., met a number of cattle hauliers in the Guildford district, who have promised support for the Association.
On Monday night, the Association held a meeting at Guildford to discuss the corporation's Bill, which, among other matters, seeks to empower the
council to run cattle trucks. It is hoped -that the local hauliers' interests will be asafeguarded.
New Officers for M.A.A.
Mr. V. N. L. Wyatt-Gunning, of York, has been re-elected to the chairmanship of the York and Malton section of the Motor Agents Association.
Mr. H. J. Briggs, of Hull, has been elected chairman of the Hull section in succession to Mr. H. D. Wells, and Mr. T. Parish has been reappointed bon. secretary.
The new chairman of the Scarborough section is Mr. A. Tait, who succeeds Mr. J. A. Hardcastle. Mr. C. Spavin continues as hon. secretary. BIS