What the Associations are Doing
28th January 1938
Page 21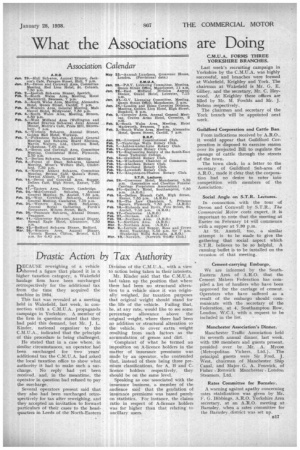 Page 21, 28th January 1938 —
What the Associations are Doing
Close
C.M.U.A. FORMS THREE YORKSHIRE BRANCHES.
Last week's recruiting campaign in Yorkshire by the C.M.U.A. was highly successful, and branches were formed at Wakefield, Keighley and York. The chairman at Wakefield is Mr. G. E. Gilbey, and the secretary, Mr. C. Heywood. At Keighley these offices are filled by Mr. M. Fowlds and Mr. J. Nelson respectively.
The chairman and secretary of the York branch will be appointed next week.
Guildford Corporation and Cattle Ban. From indications received by A.R.O., it would appear that Guildford Corporation is disposed to exercise reason over its projected Bill to regulate the passage of cattle through the streets of the town.
The town clerk, in a letter to the secretary . of Guildford Sub-area of A.R.O., made it clear that the corporation had no desire to enter into competition with members of the Association.
Social Angle on S.T.R. Lectures.
• In connection with the tour of Devon and Cornwall by S.T.R., The • Commercial Motor costs expert, it is important to. note that the meeting at Exeter on February 14 will commence with a supper at 7,30 p.m.
At St. Austell, too, a similar attempt is to be made to give the gathering that social aspect which S.T.R. believes to be so helpful. A running buffet is to be installed on the occasion of that meeting.
Cement-carrying Embargo.
We are informed by the SouthEastern Area of A.R.O. that the Cement Makers Federation has compiled a list of hauliers who have been approved for the carriage of cement. Operators who have suffered as a result of the embargo should communicate with the secretary of the Federation, at 4; Southampton Row, London, W.C.1, with a.request to be included in the list,
Manchester Association's Dinner.
Manchester Traffic Association held itS seventh annual dinner; last week, with '130 members and guests present, presided over, by Mr: A. Mycoe (Metropolitan Vickers, Ltd.). The principal guests were Sir Fred. J. West, chairman of Manchester Ship Canal, and Major. G. A. Fenwick, of Fisher -.'Renwick Manchester London Steamers, Ltd.
Rates Committee for Barnsley. A warning against apathy concerning rates stabilization was given by Mr. G. Bibbings, A.R.O. Yorkshire Area secretary, at an A.R.O. meeting at Barnsley, when a rates committee for the Barnsley .district was set up. all