Drastic Action by Tax Authority a B ECAUSE reweighing of a
28th January 1938
Page 21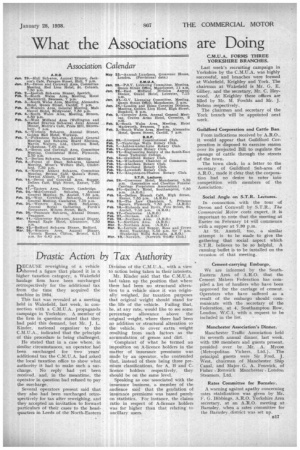 Page 21, 28th January 1938 —
Drastic Action by Tax Authority a B ECAUSE reweighing of a
Close
vehicle ',showed a figure that placed it in a higher taxation category, a Wakefield haulage firm have been surcharged retrospectively for the additional tax from the time they acquired the machine in 1934.
This fact was revealed at a meeting .held in Wakefield, last week, in connection with a C.M.U.A. propaganda campaign in Yorkshire. A member of the firm in question stated that they had paid this demand, but Mr. J. L. Kinder, national organizer to the C.M.U.A., indicated that the principle of this procedure is being challenged.
He stated that in a case where, M similar circumstances, an operator had been surcharged for two years' additional tax the C.M:U.A, had asked the local taxation office to show what authority it had to make such a surcharge. No reply had yet been received, and, in the meantime, the operator in question had refused to pay the surcharge.
Several operators present said that they also had been surcharged retrospectively for tax after reweighing, and they accepted an invitation to fonvard particulars of their cases to the headquarters in Leeds of the North-Eastern Division of the C.M.U.A., with a view to action being taken in their interests.
Mr. Kinder said that the C.M.U.A. had taken up the position that where there had been no structural alteration to a vehicle since it was originally weighed, for taxation purposes that original weight should stand for the life of the vehicle. Failing that, he, at any rate, would like to see some percentage allowance above the original weight, where there had been no addition or structural alteration tothe vehicle, to cover extra weight resulting from such faCtors as the accumulation of grease and dirt.
Complaint of what he termed an imposition on A-licence holders in the matter of insurance premiums was made by an operator, who contended that, instead of there being three premium classifications, for A, B and C-. licenceholders respectively, they should be on the same level.
Speaking as one .associated with the insurance business, a member of the audience said that the gradation of insurance premiums was based purely on statistics. For instance, the claims ratio in respect of A-licence holders was far higher than that relating to ancillary users.