Britain's Roads Must be a Compromise
28th January 1938
Page 15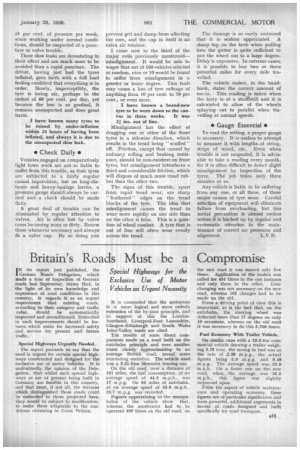 Page 15, 28th January 1938 —
Britain's Roads Must be a Compromise
Close
IN its report just published, the 'German Roads Delegation, which lna.de a tour

traffic. .

Special Highways Urgently Needed.

The report proceeds to say that the need is urgent for certain special highways constructed and designed for the exclusive use of motor Vehicles. It is undoubtedly the opinion of the Delegation, that whilst such special highways as are at present being built in Germany are feasible in this country, and that most, if not all, the features which distinguished these roads could be embodied in those projected here, they would be subject to modification, to make them adaptable to the conditions obtaining in Great Britain. It is contended that the motorway is a more logical and more Orderly extension of the by-pass principle, and in support of this the LondonSouthend, Liverpool-East Lancashire, Glasgow-Edinburgh andSouth Wales InterNalley roads are cited.

The results of some direct comparisons made on a road built on the autobahn principle and over another route closely approximating to an average British road, reveal some interesting statistics, The vehicle used was a 3_21-litre Mercedes touring car.

On the old road, over a distance of 101 miles, the fuel consumption, at an average speed of 44.3 m.p.h., was 17 m.p.g. On 92 miles of autobalm, at an average speed of 43.8 m.p.h., 29.7' m.p.g. was recorded.

Figures appertaining to the manipulation of the vehicle . show that, whereas the accelerator had to he operated 597 times on the old road, on

the new road it was moved only five times. Application of the brakes was called for 491 times in the one instance and only three in the other. Gear changing was not necessary on the new road, whereas 102 changes had to be made on the old.

From a driving point of view this is important, as is the fact that, on the autobahn, the steering wheel was &fleeted more than 17 degrees on only 10 occasions, whereas on the old road it was necessary to do this 5,700 times.

Fuel Economy With Trailer Vehicle.

On similar runs with a 12.3-ton commercial vehicle drawing a trailer weighing 3.f8 tons, the saving in fuel was at the rate of .2.28 m.p.g., the actual figures being 5.9 m.p.g. and 8.48 m.p.g., The average speed was 23.9 m,p,h, On a faster, run on the new road, when, the average was 35.5 m.p.h., this figure was slightly improved uPon.

From the aSpect of vehiele maintenance and operating economy, these figures are of particular significance arid form powerful, additional arguments in favonr of.. roads designed: and built specifically for road transport. .