Answers to Queries.
28th January 1915
Page 18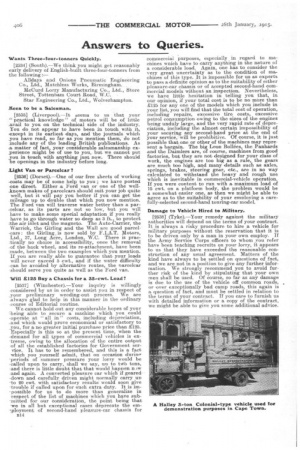 Page 18, 28th January 1915 —
Answers to Queries.
Close
Wants Three-four-tonners Quickly.
[2534] (South).—We think you might get reasonably early delivery of English-built three-four-tonners from the following:— Al1days and Onions Pneumatic Engineering Co., Ltd., Matchless Works, Birmingham. .
McCurd Lorry Manufacturing Co., Ltd., Store Street, Tottenham Court Road, W.C. • Star Engineering Co., Ltd., Wolverhampton.
Keen to be a Salesman.
[2535] (Liverpool).—It seems to us that your " practical knowledge" of motors will be of little avail to you on the technical side of the industry. You do not appear to have been in touch with it, except in its earliest days, and the journals which you have read, so far as you mention them, do not include any of the leading British publications. As a matter of fact, your considerable salesmanship experience might be of use to you, but we cannot put you in touch with anything just now. There should be openings in the industry before long.
Light Van or Parcelcar
[2536] (Dorset).—One of our free sheets of working 'costs may be of some help to you ; we have posted one direct. Either a Ford van or one of the well.known makes of parcelcars should suit your job quite well, but it will pay you better if you can get the mileage up to double that which you now mention. The Ford van will traverse water better than a parcelear, as its parts are not so low, but you will have to make some special adaptation if you really have to go through water so deep as 3 ft., to protect the air inlet and the magneto. The Auto-Carrier, the Warrick, the Girling and the Wall are good parcel-cars: the Girling, is now sold by F.I.A.T. Motors, Ltd., 37, Long Acre, London, W.C. There is prac:tically no choice in accessibility, once the removal of the back wheel, and its re-attachment, have been made, between the two examples which you mention. If you are really able to guarantee that your loads will never exceed 5 cwt., and if the water difficulty -can be avoided by alternative routes, the narcekar should serve you quite as well as the Ford van.
Will 2125 Buy a Chassis for a 35-cwt. Load ?
[2537] (Winchester).—Your inquiry is willingly • considered by us in order to assist you in respect of your preliminary weeding-out process. We are always glad to help in this manner in the ordinary .course of Editorial routine. .
We cannot hold out any considerable hopes of your being able to secure a machine which you could operate at "all in" costs, including depreciation, and which would prove economical or satisfactory to you, for a no greater initial purchase price than 1125. Especially is this so at the present time, when the -demand for all types of commercial vehicles is extreme, owing to the allocation of the entire output .of all the established factories for Government service. It has to be remembered, and this is a fact which you yourself admit, that on occasion durinv -periods of summer pressure your lorry would be -called upon to carry, shall we say, un to twTa tons, and there is little doubt that that would happen n.m., :and again. A converted pleasure car which if geared' -down and carefully driven might normally carry UP to 20 owt. with satisfactory results would soon give -trouble if called upon for such extra duty. It is impossible for us to do more than generalize in respect of the list of machines which you have sub-raided for our consideration, the point being that we in all but exceptional cases deprecate the employment of second-hand pleasure-car chassis for B14
commercial purposes, especially in regard to machines which have to carry anything in the nature of a considerable load. Again, one has to consider the very great uncertainty as to the oondition of machines of this type. It is impossible for us as experts to pass a definite opinion as to the suitability of either pleasure-car chassis or of accepted second-hand commercial models without an inspection. Nevertheless, we have little hesitation in telling you that, in our opinion, if your total cost is to be no more than 2125 tor any one of the models which you include in your list, you will find that the total cost of operation, including repairs, excessive tire costs, excessive petrol consumption owing to the sizes of the engines being unduly large, and the very rapid rate of depreciation, including the almost certain impossibility of your securing any second-hand price at the end of your service, will be prohibitive. Of course, it is just possible that one or other of the machines may represent is bargain. The big Leon Bollees, the Panhards and the Daimlers are, of course, machines from good factories but they are not designed for your class of work, the engines are too big as a rule, the gears are much too high, and many details such as axles, springs, brakes, steering gear, etc., are in no way calculated to withstand the heavy and rough use which is inevitable in commercial-vehicle operation. If you were content to run with a, maximum load of 15 cwt. on a platform body, the problem would be a somewhat easier one, as then we might be able to agree as to the suitability of your employing a carefully-selected second-hand touring-car model.
Damage to Vehicle Hired to Military.
[2538] (Tyke).—Your remedy against the military authorities will depend on the terms of your contract. It is always a risky procedure to hire a vehicle for military purposes without the reservation that it is to be driven only by a man in your own employ. If the Army Service 'Corps officers to whom you refer have been teaching recruits on your lorry, it appears to us that they have exceeded the reasonable construction of any usual agreement. Matters of the kind have always to be settled on questions of fact, and we are not in a position to give any further information. We strongly recommend you to avoid further risk of the kind by stipulating that your own men shall be used. Of course, so far as any damage is due to the use of the vehicle off common roads, or over exceptionally bad camp roads, this again is a question of fact, and must be settled in relation to the terms of your contract. If you care to furnish us with detailed information or a copy of the contract, we might be able to give you some additional advice.