The Value of a Keen Man on a Local Council.
28th January 1915
Page 1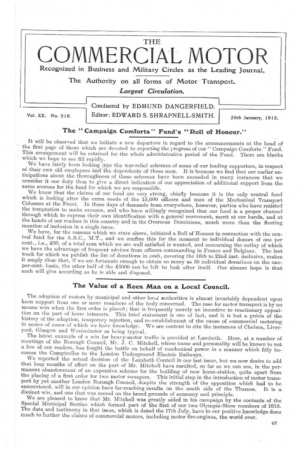 Page 1, 28th January 1915 —
The Value of a Keen Man on a Local Council.
Close
The adoption of motors by municipal and other locs1 authorities is almost invariably dependent upon keen support from one or more members of the body concerned. The case for motor transport is by no means won when the first order is placed; that is frequently merely an incentive to reactionary opposition on the part of horse interests. This brief statement is one of fact, and it is but a precis of the history of the adoption, temporary rejection, and re-establishment of the cause of commercial motoring in scores of cases of which we have knowledge. We are content to cite the instances of Chelsea, Liverpool, Glasgow and Westminster as being typical. The latest example of a win for heavy-motor traffic is provided at Lambeth. Here, at a number of meetings of the Borough Council, Mr. J. C. Mitchell, whose name and personality will be known to not a few of our readers, has fought the battle on behalf of mechanical power in a manner which fitly becomes the Comptroller to the London Underground Electric Railways.
We reported the actual decision of the Lambeth Council in our last issue, but we now desire to add that long months of effort on the part of Mr. Mitchell have resulted, so far as we can see, in the permanent abandonment of an expensive scheme for the building of new horse-stables, quite apart from the placing of a first order for two motor sweepers. This initial step in the introduction of motor transport by yet another London Borough Council, despite the strength of the opposition which had to be encountered, will in our opinion have far-reaching results on the south side of the Thames. It is a distinct win, and one that was scored on the broad grounds of economy and principle.
We are pleased to know that Mr. Mitchell was greatly aided in his campaign by the contents of the Special Municipal Section which formed part of the 'first of our two Olympia-Show numbers of 1913. The data and testimony in that issue, which is dated the 17th July, have to our positive knowledge done much to lurther the claims of commercial motors, including motor fire-engines, the world over.