The "Campaign Comforts" Fund's "Roll of Honour."
28th January 1915
Page 1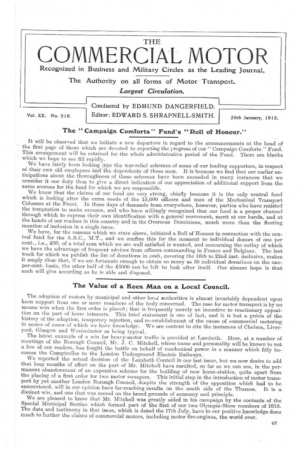 Page 1, 28th January 1915 —
The "Campaign Comforts" Fund's "Roll of Honour."
Close
It will be observed that we initiate a new departure in regard to the announcements at the head of the first page of those which are devoted to reporting the progress of our" Campaign Comforts "Fund This arrangement will be retained for the whole administrative period of the Fund. There are blanks which we hope to see fill rapidly.
We have lately been looking into the war-relief schemes of some of our leading supporters, in respect of their own old employees 4.ncl'the dependents of those men. It is because we find that our earlier anticipations about the thoroughness of these schemes have been exceeded in many instances that we consider it our duty thus to give a direct indication of our appreciation of additional support from the same sources for the fund for which we are responsible. We know that the claims of our fund are very strong, chiefly because it is the only central fund which is looking after the extra needs of the 15,000 officers and men of the Mechanical Transport Columns at the Front. In these days of demands from everywhere, however, parties who have resisted the temptation to make excuses, and who have willingly recognized that our fund is a proper channel through which to express their own identification with a general movement, merit at our hands, and at the hands of our readers in this country and in. the Overseas Dominions, much more than the fleeting mention of inclusion in a single issue.
We have, for the reasons which we state above, initiated a Roll of Honour in connection with the central fund for the A.S.C., M.T., and we confine this for the moment to individual donors of one per cent., i.e., £50, of a total sum which we are well satisfied is wanted, and concerning the outlay of which we have the advantage of frequent advices from officers commanding in France and Belgium. The last week for which we publish the list of donations in cash, covering the 16th to 22nd inst. inclusive, makes it amply clear that, if we are fortunate enough to obtain so many as 50 individual donations on the oneper-cent. basis, the other half of the £5000 can be left to look after itself. Our sincere hope is that each will give according as he is able and disposed.