SHOW US THE
28th February 2008
Page 44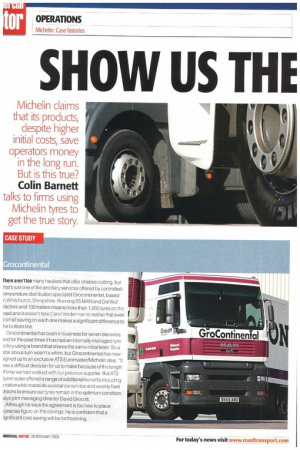 Page 45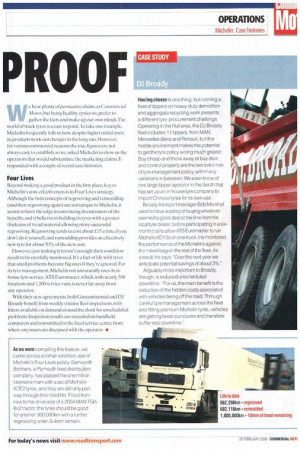 Page 44, 28th February 2008 —
SHOW US THE
Close
Michelin claims that its products, despite higher initial costs, save operators money in the long run.
But is this true?
Cohn Barnett talks to firms using Michelin tyres to get the true story.
e hear plenty of persuasive claims at Commercial Motor, but being healthy cynics we prefer to gather the facts and make up our own minds.The world of truck tyres is a case in point.To take one example. Michelin frequently tells us how, despite higher initial costs, its products work out cheaper in the long run. However, for various commercial reasons the true figures are not always easy to establish, so we asked Michelin to show us the operators that would substantiate the marketing claims. It responded with a couple of recent case histories.
Four Lives
Beyond making a good product in the first place, key to Michelin's cost-effectiveness is us Four Lives strategy. Although the twin concepts of regrooving and remoulding (and then regrooving again) are not unique to Michelin, it seems to have the edge in convincing its customers of the benefits, and it believes in building its tyres with a greater thickness of tread material allowing more successful regrooving. Regrooving tends to cost about 15 a time if you don't do it yourself, and remoulding provides an effectively new tyre for about 50% of the new cost.
I lowever. just making tyres isn't enough: their condition needs to be carefully monitored. It's a fact of life with tyres that small problems become big ones if they're ignored. For its tyre management, Michelin not unnaturally uses its inhouse tyre service,ATS Euromaster, which, wi ill nearly 500 locations and 1,200 service vans, is never far away from any operator.
With their new agreements, both Grocontinental and DJ Broady benefit from weekly routine fleet inspections,with fitters available on demand around the clock for unscheduled problems. Inspection results are recorded on handheld computers and transmitted to the local service centre from where any issues are discussed with the operator. • Hauling cheese is one thing, but running a fleet of tippers on heavy-duty demolition and aggregate recycling work presents a different tyre-procurement challenge. Operating in the Hug area, the DJ Broady fleet includes 11 tippers, from MAN, Mercedes-Benz and Renault, but the hostile environment makes the potential to get the tyre policy wrong much greater. Buy cheap and throw away or buy dear and control properly are the two extremes of tyre-management policy, with many variations in between. We even know of one large tipper operator in the South that has set up an in-house tyre company to import Chinese tyres for its own use.
Broady transport manager Bob Marshall used to have a policy of buying whatever seemed a good deal at the time from his local tyre dealer, before participating in a sixmonth trial to allow ATS Furornaster to run Michelin XDY3s on one truck. He monitored the performance of the Michelins against the mixed bag on the rest of the fleet. As a result, he says: Over the next year we anticipate potential savings of about 3%."
Arguably more important to Broady, though, is reduced unscheduled downtime: "For us, the main benefit is the reduction of the hidden costs associated with vehicles being off the road. Through careful tyre management across the fleet and fitting premium Michelin tyres, vehicles are getting fewer punctures and therefore suffer less downtime."