Driver with imaginary mate fined £2,500 NINE OFFENCES of tachograph
28th February 2008
Page 25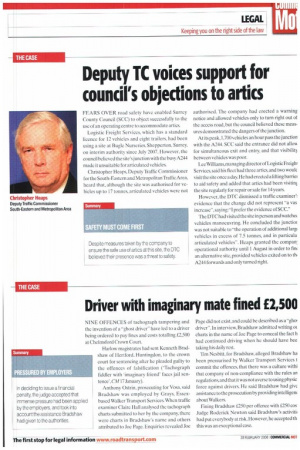 Page 25, 28th February 2008 —
Driver with imaginary mate fined £2,500 NINE OFFENCES of tachograph
Close
tampering and the invention of a "ghost driver" have led to a driver being ordered to pay fines and costs totalling £2,500 at Chelmsford Crown Court.
Harlow magistrates had sent Kenneth Bradshaw of Hertford, Huntingdon, to the crown court for sentencing after he pleaded guilty to the offences of falsification (`Tachograph fiddler with 'imaginary friend' faces jail sentence', CM 17 January).
Anthony Ostrin, prosecuting for Vosa, said Bradshaw was employed by Grays, Essexbased Walker Transport Services. When traffic examiner Claire Hall analysed the tachograph charts submitted to her by the company, there were charts in Bradshaw's name and others attributed to Joe Page. Enquiries revealed Joe Page did not exist, and could be described as a "gho! driver". In interview, Bradshaw admitted writing or charts in the name of Joe Page to conceal the fact h had continued driving when he should have bee taking his daily rest.
Tim Nesbitt, for Bradshaw, alleged Bradshaw ha been pressurised by Walker Transport Services t commit the offences, that there was a culture withi that company of non-compliance with the rules an regulations,and that it was not averse to using physic force against drivers. He said Bradshaw had givc assistance to the prosecution by providing intelligent about Walkers.
Fining Bradshaw £250 per offence with £250 cos Judge Roderick Newton said Bradshaw's actiyitil had put everybody at risk. However, he accepted th this was an exceptional case.