Teesport to become second biggest container terminal
28th February 2008
Page 14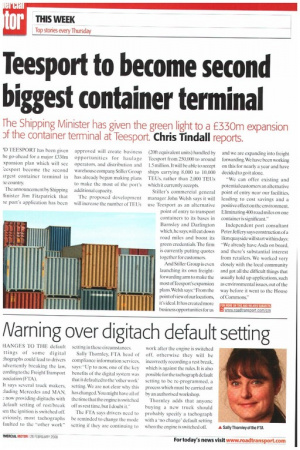 Page 14, 28th February 2008 —
Teesport to become second biggest container terminal
Close
Me Shipping Vinister has given the green light to a E330m expansion the container terminal at Teesport. Chris Tindall reports.
'D TEESPORT has been given he go-ahead for a major £330m xpansion plan which will see -eesport become the second irgest container terminal in le country.
The announcement by Shipping 4inister Jim Fitzpatrick that le port's application has been approved will create business opportunities for haulage operators, and distribution and warehouse company Stiller Group has already begun making plans to make the most of the port's additional capacity.
The proposed development will increase the number of TEUs (20ft equivalent units) handled by Teesport from 250,000 to around 1.5 million. It will be able to accept ships carrying 8,000 to 10,000 TEUs. rather than 2,000 TETA which it currently accepts.
Stiller's commercial general manager John Welsh says it will use Teesport as an alternative point of entry to transport containers to its bases in Barnsley and Darlington which, he says, will cut down road miles and boost its green credentials. The firm is currently putting quotes together for customers.
And Stiller Group is even launching its own freightforwarding arm to make the most ofTeesport's expansion plans.Welshsays:"From the point of view of our locations, it's idealit has created more business opportunities for us and we are expanding into freight forwarding. We have been working on this for nearly a year and have decided to go it alone.
"We can offer existing and potential customers an alternative point of entry near our facilities, leading to cost savings and a positive effect on the environment. Eliminating 400 road miles on one container is significant."
Independent port consultant Peter Jeffery says construction of a ikm quayside will start within days: "We already have Asda on board, and there's substantial interest from retailers. We worked very closely with the local community and got all the difficult things that usually hold up applications, such as environmental issues, out of the way before it went to the House of Commons."
FOR MORE ON THIS AND RELATED SUBJECTS
www.rOadiransport.com/cm