Northgate expands its pilot sale and rentback scheme
28th February 2008
Page 10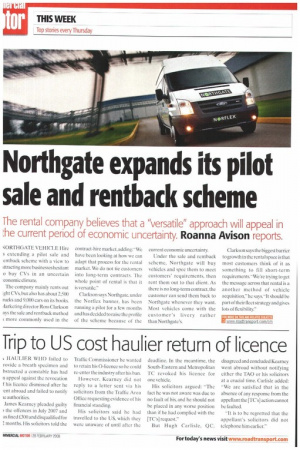 Page 10, 28th February 2008 —
Northgate expands its pilot sale and rentback scheme
Close
The rental company believes that a "versatile" approach will appeal in he current period of economic uncertainty. Roanna Avison reports.
NIORTHGATE VEHICLE Hire s extending a pilot sale and .entback scheme with a view to ittracting more businesses hesitant o buy CVs in an uncertain conomic climate.
The company mainly rents out ight CVs, but also has about 2500 rucks and 9,000 cars on its books. ,larketing director Ross Clarkson ays the sale and rentback method more commonly used in the contract-hire market,adding:"We have been looking at how we can adapt that process for the rental market. We do not tie customers into long-term contracts. The whole point of rental is that it is versatile."
Clarkson says Northgate, under the Norflex banner, has been running a pilot for a few months and has decided to raise the profile of the scheme because of the current economic uncertainty.
Under the sale and rentback scheme, Northgate will buy vehicles and spec them to meet customers' requirements, then rent them out to that client. As there is no long-term contract, the customer can send them hack to Northgate whenever they want. Most vehicles come with the customer's livery rather than Northgate's. Clarkson says the biggest barrier to growth in the rental space is that most customers think of it as something to fill short-term requirements. "We're trying to get the message across that rental is a another method of vehicle acquisition," he says. "It should be part of their fleet strategy and gives lots of flexibility."
FOR MORE ON THIS AND RELATER SUBJECTS
www.roadiransport.comicm