Lifting Valve Springs with Both Hands Free
28th December 1956
Page 50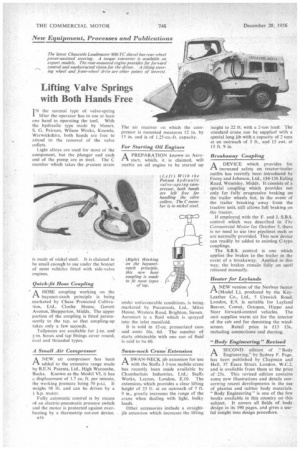 Page 50, 28th December 1956 —
Lifting Valve Springs with Both Hands Free
Close
IN the normal type of valve-spring lifter the operator has to use at least one hand in operating the tool. With the hydraulic type made by Messrs. S. G. Peirson, Wilson Works, Knowle, Warwickshire, both hands are free to attend to the removal of the valve collets.
Light alloys arc used for most of the component, but the plunger and each end of the pump are in steel. The C member which takes the Le-eatest strain Quick-fit Hose Coupling A HOSE coupling working on the rTh. bayonet-catch principle is being marketed by Chase Protected Cultivation, Ltd., Cloche House, Govett Avenue, Shepperton, Middx. The upper portion of the coupling is fitted permanently to the tap, so that coupling-up takes only a few seconds.
Tailpieces are available for +-in. and On. hoses and tap fittings cover round, oval and threaded types.
A Small Air Compressor r-k A NEW air compressor has been added to the extensive range made by B.E.N. Patents, Ltd., High Wycombe, Bucks. Known as the Model VI, it has a displacement of 1.7 Cu. ft. per minute, the working pressure being 50 p.s.i. It weighs 98 lb. and can be driven by a h.p. motor.
Fully automatic control is by means of an electric-pneumatic pressure switch and the motor is protected against overheating by a thermotrip cut-out device. The air receiver on which the compressor is mounted measures 12 in. by 15 in. and is of 1.25-cu.-ft. capacity.
For Starting Oil Engines A PREPARATION knownas Aero1-1 start, which, it. is claimed, will enable an oil engine to be started up
under unfavourable conditions, is being. marketed by Patentools, Ltd., Mitre House, Western Road, Brighton, Sussex. Aerostart is a fluid which is sprayed Into the inlet manifold.
It is sold in I2-oz, pressurized cans and costs 16s. 6d. The number of starts obtainable with one can of fluid is said In he 60.
Swan-neck Crane' Extension ASWAN-NECK jib extension for use with the Staffa 3 3-ton mobile crane has recently been made available by Chamberlain Industries, Ltd.; Staffa Works, Leyton. London. E.10. The extensions which provides a clear lifting height of 23 ft. at an outreach of 7 ft. 9 in., greatly increases the range of the crane when dealing with light, bulky loads. ,
Other accessories include a straightjib extension which increases the lifting height to 22 ft. with a 2-ton load. The standard crane can be supplied with a special long jib with a capacity of 2 tons at an outreach of 5 ft., and 15 cwt. at 15 ft. 9 in.
Breakaway Coupling A DEVICE which provides for increased safety on tractor-trailer outfits has recently been introduced by Feeny and Johnson. Ltd., 134-136 Ealing Road, Wembley, Middx. It consists of a special coupling which provides not only for fully progressive braking on the trailer wheels but, in the event of the trailer breaking -away from the tractive unit, still allows full braking on the tractor.
If employed with the F. and J. S.B.S. control which was described in The Commercial Motor for October 5, there is no need to use two pipelines such as are normally provided. This new device can readily he added to existing C-type couplings.
The S.B.S. .control is one which applies the brakes to the trailer in the event of a breakaway. Applied in this way, the brakes remain fully on until released manually.
Heater for Leylands ANEW version of the Norkay heatei (Model L), produced by the KeyLeather Co., Ltd., 5 Urswick Road, London, E.9, is suitable for Leyland Beaver, Comet, Octopus, Hippo and Steer forward-control vehicles. The unit supplies warm air for the interior of the cab and for demisting the windscreen. Retail price is £13 13s.. including connections and ducting.
"Body Engineering" Revised ASECOND edition of ..!` Body Engineering," by Sydney F. Page, has been published by Chapman and Hall, 37 Essex Street, London, W.C.2, and is available from them at the price of -25s. This revised edition contains some new illustrations and details eoncerring recent developments in the use of plastics and rubber body materials. "Body Engineering" is one of the few books available in this country on this subject. It covers an 'fields of body design in its 190 pages, and gives a useful insight into design procedure.