Design Engines to Aid Repairs
28th December 1956
Page 46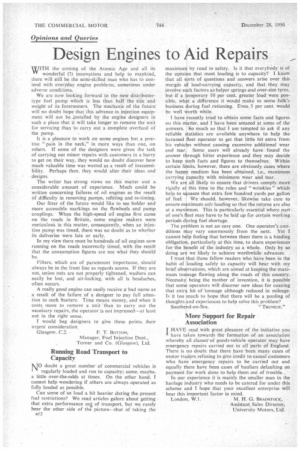 Page 46, 28th December 1956 —
Design Engines to Aid Repairs
Close
WITH the coming of the Atomic Age and all its wonderful (2) innovations and help to mankind, , there will still be the semi-skilled man who has to contend with everyday engine problems, sometimes under
adverse conditions. • We are now looking forward to the new distributortype fuel pump which is less than half the size and weight of its forerunners. The mechanic of the future will no doubt hope that this advance in injection equipment will not be .installed by the engine designers in such a place that it will take longer to remove the unit for servicing than to carry out a complete overhaul of the pump.
It is a pleasure to work on some engines but a posi tive "pain in the neck," in more ways than one, on others. If some of the designers were given the task of carrying out minor repairs with customers in a hurry to get on their way, they would no doubt discover how much valuable time was wasted as a result of inaccessibility. Perhaps then, they would alter their ideas and designs.
The writer has strong views on this matter and a.
considerable amount of experience. Much could be written concerning failures of oil engines as the result of difficulty in removing pumps, refitting and re-timing.
Our fitter of the future would like to see bolder and more accessible markings on the flywheels and pump couplings. When the high-speed oil engine first came on the roads in Britain, some engine makers were meticulous in this matter, consequently, when an injection pump was timed, there was no doubt as to whether its deliveries were late or early.
in my view there must be hundreds of oil engines now running on the roads incorrectly timed, with the result that the consumption figures are not what they should be.
Filters, which are of paramount importance, should always be in the front line as regards access. If they are not, union nuts are not properly tightened, washers can easily be lost, and air-locking, with all is headaches, often occurs.
A really good engine can easily receive a-bad name as
a result of the failure of a designer to pay full attention to such Matters. Time means money, and when it costs more to remove a unit than to carry out the necessary repairs, the operator is not impressed—at least not in the right sense.
would beg designers to give these points their urgent consideration.
Glasgow. C.2. F. T. Burront, Manager. Fuel Injection Dept., Turner and Co. (Glasgow), Ltd.
Running Road Transport to Capacity
No doubt a great number of commercial vehicles is
regularly loaded and run to capacity; some, maybe, a little over-the-odds at times. On the other hand, cannot help wondering if others are always operated as fully loaded as possible.
Can some of us load a bit heavier during the present fuel restrictions? We read articles galore about getting • that extra performance out of transport, but we rarely hear the other side of the picture—that of taking the R12
maximum by road in safety. Is it that everybody is of the opinion that most loading is to capacity? I know that all sorts of questions and answers arise over this margin of load-carrying capacity, and that they may involve such factors as helper springs and over-size tyres, but if a temporary 10 per cent. greater load were possible, what a difference it would make to some folk's business during fuel rationing. Even 5 per cent. would be well worth while.
I have recently tried to obtain some facts and figures on this matter, and I have been amazed at some of the anSwers. So much so that I am tempted to ask if any reliable Itatistics are available anywhere to help the harassed 'fleet operator to get that little bit extra from his vehicles without causing excessive additional wear and tear. Some users will already have found the answer thirough bitter experience and they may decide to keep guch facts and figures to themselves. Within certain limits, however, there are obviously cases where the happy medium has been obtained, i.e., maximum carrying capacity with minimum wear and tear.
We are all likely to ensure that drivers comply morerigidly at this time to the rules and " wrinkles" which help to squeeze that extra few hundred yards per gallon
of fuel. We should, however, likewise take care to ensure maximum safe loading so that the returns are also at a maximum. This is particularly essential where part' of one's fleet may have to be laid up for certain working periods during fuel shortage.
The problem is not an easy one. One operator's conditions may vary enormously from the next. Yet I cannot help feeling that between them there is a binding obligation" particularly at this time, to share experiences for the benefit of the industry as a whole. Only by so' doing aril we likely to achieve worthwhile advances.
I trust 1.hat those fellow readers who have been in the habit of ;loading safely to capacity will bear with my brief observations, which are aimed at keeping the maximum tonnage flowing along the roads of this country. Necessity being the mother of invention, it is possible that some operators will discover new ideas for coaxing that extra bit of 'tonnage although reduced in mileage. Ts it too much to hope that there will he a pooling of thoughts and experiences to help solve this problem?
Southend-on-Sea. "TRUNK IE."
More Support for Repair Association
IHAVE read with great pleasure of the initiative you have taken towards the formation of an association whereby all classes of goods-vehicle operator may have emergency repairs carried out in all parts of England. There is no doubt that there have been many cases of motor traders refusing to give credit to casual customers who have emergency repairs to be carried out and equally there have been cases of hauliers defaulting on payment for work done to help them out of trouble.,
In our experience it is mainly the smaller man in the haulage industry who needs to be catered for under this scheme and I hope that your excellent enterprise will bear this important factor in mind.
London, W.I. M. H. G. BRADSTOCK,
Assistant, Sales Director, University Motors, Ltd.