DY continuing to operate a large pro portion of their
28th December 1956
Page 35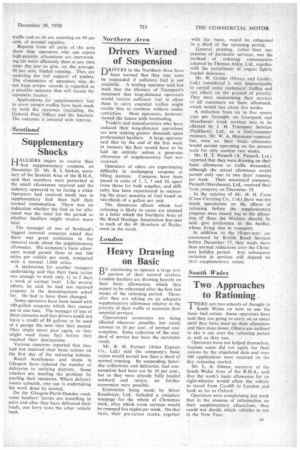 Page 35, 28th December 1956 —
DY continuing to operate a large pro portion of their
Close
normal services. London hauliers are drawing heavily on their basic allowances, which they expect to be exhausted after the first few weeks of the rationing period. Thereafter they are relying on an adequate supplementary allowance relative to the priority of their traffic to maintain their essential services.
Operational economies arc being effected wherever possible, but rarely amount to 10 per cent. of normal consumption. Some reduction of the stan dard of service has been the inevitable result.
Mr. R. H. Farmer (Atlas Express Co., Ltd.) said the company's basic ration would permit less than a third of normal running. By suspending Saturday collections and deliveries, fuel consumption had been cut by 10 per cent.. but as they were already fully loaded outward and • return, no further economies were possible.
Economies being made by Silver Roadways, Ltd., included a complete stoppage for the whole of Christmas week, after which trunk services would be resumed five nights per week. On that basis, their pre-ration stocks, together with the basic, would be exhausted in a third of the rationing period.
General pruning, rather than suspension of particular services, was the method of reducing consumption adopted by Thomas Allen, Ltd., together with the curtailment of urgent lightly loaded deliveries.
Mr. W. Golder (Otway and Golder, I.td.) considered It was impracticable to curtail some customers' traffics and not others on the ground of priority. [hey were maintaining their services to all customers on basic allowance, which would last about five weeks.
A reduction from six to five return trips per fortnight on Liverpool and Manchester trunk services was to be effected by J. H. Transport Services (Peckham), Ltd., as a fuel-economy measure. Mr. W. A. Heymann reported. but, even so, their basic allowance would permit operating on the present scale for only another two weeks.
Mr. H. T. Pannell (A. Pannell. Ltd.) reported that they were drawing on their basic allowance as traffic demanded. although the actual allowance would permit only one to two days' running per week. Their associated company. Pannell (Merchants), Ltd., received their basic coupons on 'December. 19.
In the opinion of Mr. H. H. Crow (Crow Carrying Co., ltd.) there was too much speculation on the effects of rationing before the supplementary coupons were issued. bell in the allocation of these the Minister should, he said, give preference to the haulier, whose living sGs in transport.
In addition to the 10-per-cent, cut announced by British Road Services before December 17. they made more than normal reductions over the Christmas holiday period. Any subsequent variation in services will depend on their supplementary ration.