Drivers Warned of Suspension
28th December 1956
Page 35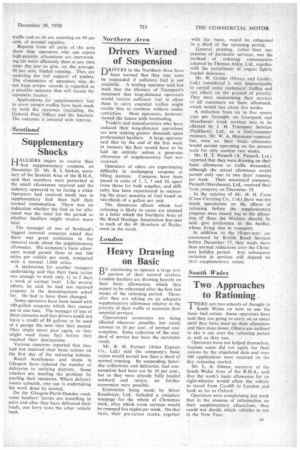 Page 35, 28th December 1956 —
Drivers Warned of Suspension
Close
nRIVERS in the Northern Area have
been warned that they may soon be suspended if sufficient fuel is not available. A leading operator said last week that the Minister of Transport's statement that long-distance operators would receive sufficient fuel to allow them to carry essential traffics might enable him to continue without undue restriction. Most operators, however. viewed the future with foreboding.
Traders and manufacturers who have reduced their long-distance operations are now making greater demands upon professional hauliers. A large operator said that by the end of the first week in January his fleet would have to be laid up entirely unless a generous allowance of supplementary fuel was received.
Operators of oilers are experiencing difficulty in exchanging coupons at filling stations. Coupons have been issued in units of 1, 3, 5 and 10, apart from those for bulk supplies, and difficulty has been experienced in measuring the exact quantity of fuel based on two-thirds of a gallon per unit.
The disastrous effects which fuel rationing is likely to cause are stressed in a letter which the Northern Area of the Road Haulage Association has sent to each of the 40 Members of Parliament in the north.