North-West
28th December 1956
Page 34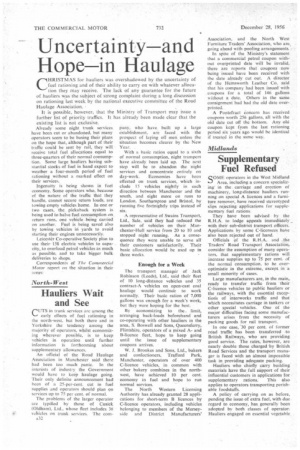 Page 34, 28th December 1956 —
North-West
Close
Hauliers Wait and See
puTs in trunk services arc among the early effects of fuel rationing in the north-west, but both there and in Yorkshire the tendency among the majority of operators, whilst economizing wherever possible, is to keep vehicles in operation until further information is forthcoming about supplementary allowances.
An official of the Road Haulage Association in Manchester said there had been too much panic. In the interests of industry the Government would have to keep haulage going. Their only definite announcement had been of a 25-per-cent. cut in fuel supplies and operators should plan pn services up to 75 per cent. of normal.
The problems of the larger operator are typified by those of Cusick (Oldham), Ltd., whose fleet includes 38 vehicles on trunk services. The corn pany. who have built up a large establishment, are faced with the prospect of laying off men sinless the situation becomes clearer by the New Year.
With a basic ration equal to a sixth of normal consumption, night trampers have already been laid up. The next step will be to abandon the night services and concentrate entirely on day-work. Economies have been effected on trunk services, which include 15 vehicles nightly in each direction between Manchester and the south, and eight more on runs to London. Southampton and Bristol, by running five fortnightly trips instead of six.
A representative of Swains Transport, Ltd., Sale, said they had reduced the number of vehicles On their Manchester-Hull service from 20 to 10 and stopped night running. As a consequence they were unable to serve all their customers satisfactorily. Their basic allocation would be used up in three weeks.
Enough for a Week
The transport manager of Jack Robinson (Leeds), Ltd., said their fleet of 10 long-distance vehicles and 35 contract-A vehicles on open-cast coal haulage would continue to work normally. Their basic ration of 7,000 gallons was enough for a week's work, but they were hoping for the best.
By economizing to the limit, arranging back-loads beforehand and co-operating with other hauliers in the area, S. Boswell and Sons, Queensferry, Flintshire, operators of a mixed Aand B-licence fleet, hope to keep going until the issue of supplementary coupons arrives.
W. J. Brookes and Sons, Ltd., bakers and confectioners, Trafford Park, Manchester, operators of over 400 C-licence vehicles, in common with other bakery combines in the northwest, have achieved 10 per cent. economy in fuel and hope to run normal services.
The North Western Licensing Authority has already granted 28 applications for short-term El licences by C-licence operators, including vehicles belonging to members of the Merseyside and District Manufacturers' Association, and the North West Furniture Traders' Association, who are, going ahead with pooling arrangements.
In spite of the Ministry's statement that a commercial petrol coupon without overprinted date will be invalid, there are reports that coupons now being issued have been received with the date already cut out. A director of the Hem sworth Leather Co. said that his company had been issued with coupons for a total of 146 gallons without a date. Others in the same consignment had had the old date overprinted.
A Pontefract concern has received coupons worth 256 gallons, all with the old date cut off the bottom. Any old coupon kept from the last rationing period six years ago would be identical if treated in the same way.