No Big Grants Without Trouble
28th December 1956
Page 33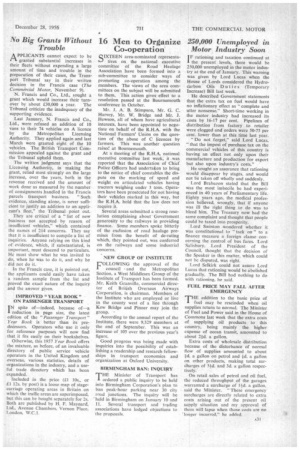 Page 33, 28th December 1956 —
No Big Grants Without Trouble
Close
A PPLICANTS cannot expect to be r's. granted substantial increases in their fleets without expending a large amount of time and trouble itt the preparation of their cases, the Transport Tribunal say in their written decision in the Francis case (The Cottunercial Motor, November 9).
N. Francis and Co., Ltd.-, sought a grant which would increase their turnover by about £30,000 a year. The Tribunal criticize the inadequacy of the supporting evidence.
Last January, N. Francis and Co., Ltd., were refused an addition of 10 vans to their 74 vehicles on A licence by the Metropolitan Licensing Authority. They applied again and last March were granted eight of the 10 vehicles. The British Transport Commission appealed against the grant and the Tribunal upheld them.
The written judgment says that the Licensirig Authority, in making the grant, relied most strongly on the large increase, over the years, both in the revenue received and the amount of work done as measured by the number of consignments handled in the Francis parcels transport business. "Such evidence, standing alone, is never sufficient to justify an addition to an applicant's fleet," the Tribunal point out.
They are critical of a " list of new business not accepted by reason of insufficient vehicles," which contained the names of 214 concerns. They say that it is insufficient to compile a list of inquiries. Anyone relying on this kind of evidence, which, if substantiated, is important, must descend to particulars. He must show what he was invited to do, when he was to do it, and why he did not do it.
In the Francis case, it is pointed out, the applicants could easily have taken a random sample from the list and proved the exact nature of the inquiry and the answer given.
IMPROVED " YEAR BOOK" ON PASSENGER TRANSPORT I N spite of—indeed, because of—a reduction in page size, the latest edition of the "Passenger Transport" Year Book is better than its predecessors. Operators who use it only for reference purposes will now find that it fits easily on their bookshelves.
Otherwise, this 1957 Year Book offers the mixture, as before, of an invaluable directory of public service vehicle operators in the United Kingdom and overseas, various statistics, details of organizations in the industry, and a useful trade directory which has been expanded.
Included in the price (£1 10s., or LI 12s. by post) is a loose map of stagecarriage operating areas in Britain on which the traffic areas are superimposed, but this can be bought separately for 2s. Both are published by H. F. Maynard, Ltd., Avenue Chambers. Vernon Place, London. W.C.I,