250,000 Unemployed in Motor Industry Soon
28th December 1956
Page 33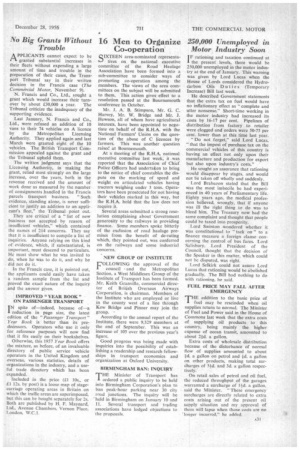 Page 33, 28th December 1956 —
250,000 Unemployed in Motor Industry Soon
Close
I F rationing and taxation continued at the present levels, there would be 250,000 unemployed in the motor industry at the end of January. This warning was given by Lord Lucas when the House of Lords considered the Hydrocarbon Oils Duties (Temporary Increase) Bill last week.
He described Government statements that the extra tax on fuel would have no inflationary effect as "complete and utter nonsense." Short-time working in the motor industry had increased its costs by 16-17 per cent. Pipelines of distribution from factory to retailer were clogged and orders were 50-75 per cent, lower than at this time last year.
"Do not forget," said Lord Lucas, "that the impost of purchase tax on the commercial vehicles of this country is having an effect not only upon their manufacture and production for export but also upon industry's costs."
He sought an assurance that rationing would disappear by stages, and would not be taken off wholly and suddenly.
Lord Brabazon stated that the Bill was the most imbecile he had experienced in 40 years of Parliamentary life. Eighty years ago, the medical profession believed, wrongly, that if anyone was ill the right thing to do was to bleed him. The Treasury now had the same complaint and thought that people could be taxed into prosperity.
Lord Swinton .wondered whether it was constitutional to "tack on" to a finance measure a foreign clause concerning the control of bus fares. Lord Salisbury, Lord President of the Council. thought that the decision of the Speaker in this matter, which could not be disputed, was right.
Lord Selkirk could not assure Lord Lucas that rationing would be abolished gradually. The Bill had nothing to do with rationing, he said.
FUEL PRICE MAY FALL AFTER EMERGENCY 71-IE addition to the basic price of fuel may be rescinded when oil supplies return to normal. The Minister of Fuel and Power said in the House of Commons last week that the extra costs of supplying oil products to this country, being mainly the higher expense of ocean transit, amounted to about 2.1d. a gallon.
Extra costs of wholesale distribution because of the disturbance of normal flow of supplies amounted to about id. a gallon on petrol and -1d. a gallon on other products, making total surcharges of Ad. and 3d. a gallon respectively.'
On retail sales of petrol and oil fuel, the reduced throughput of the garages warranted a surcharge of 14c1. a gallon, said the Minister. "These emergency surcharges are directly related to extra costs arising out of the present oil supply situation and my approval of them will lapse when those costs are no 'longer incurred." he added.