16 Men to Organize Co-operation
28th December 1956
Page 33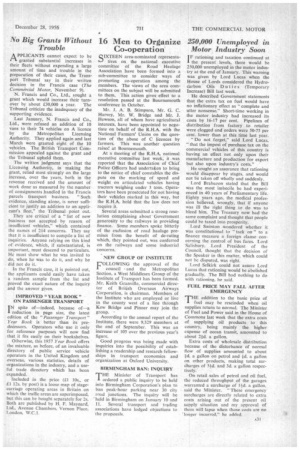 Page 33, 28th December 1956 —
16 Men to Organize Co-operation
Close
QIXTEEN area-nominated representa tives on the national executive committee of the Road Haulage Association have been formed into a sub-committee to consider ways of promoting co-operation among the members. The views of the area committees on the subject will be submitted to them. This action gives effect to a resolution passed at the Bournemouth conference in October.
Mr. J. A. B. Stimpson, Mr. G. C. Harvey, Mr. W. Bridge and Mr. J. Hewson, all of whom have agricultural interests, have been appointed to negotiate on behalf of the R.H.A. with the National Farmers' Union on the question of the abuse of C licences by farmers. This was another question raisee at Bournemouth.
At a meeting of the R.H.A. national executive committee last week, it was reported that the Association of Chief Police Officers had undertaken to bring to the notice of chief constables the dispute on the marking of speed and weight on articulated vehicles having tractors weighing under 3 tons. Operators have been prosecuted for not having their vehicles marked in this way, but the R.H.A. hold that the law does not require it.
Several areas submitted a strong resolution complaining about Government generosity to the railways in providing finance. Some members spoke bitterly of the exclusion of road haulage premises from the benefit of de-rating which, they pointed out, was conferred on the railways and some industrial concerns.
NEW GROUP OF INSTITUTE
FOLLOWING the approval of the council • and the Metropolitan Section, a West Middlesex Group of the Institute of Transport has been formed. Mr. Keith Granville, commercial director of British Overseas Airways Corporation, is chairman. Members of the Institute who are employed or live in the county west of a line through Kew Bridge and Pinner may join the group.
According to the annual report of the Institute, there were 9,329 members at the end of September. This was an increase of 105 over the previous year's figure.
Good progress was being made with inquiries into the possibility of establishing a readership and research fellowships in transport economics and organization at Oxford University.
BIRMINGHAM BAN: INQUIRY
THE Minister of Transport has ordered a public inquiry to be held into Birmingham Corporation's plan to ban peak-hour parking near 30 city road junctions. The inquiry will be -held in Birmingham on January 10 and 11. Several transport and trading associations have lodged objections to the proposals.