Heavy Hiring as Ground of Appeal : Doubled Fleet Refused
28th December 1956
Page 28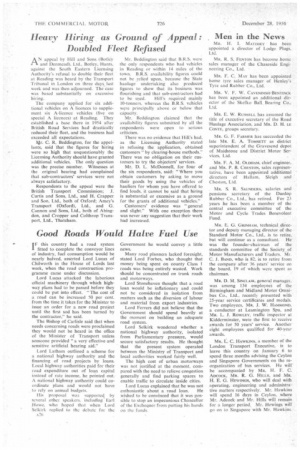 Page 28, 28th December 1956 —
Heavy Hiring as Ground of Appeal : Doubled Fleet Refused
Close
A N appeal by Hill and Sons (Botley r. and Denmead), Ltd.. Botley, Hants. against the South Eastern Licensing Authority's refusal to double their fleet at Reading was heard by the Transport Tribunal in London on three days last week and was then adjourned. The case was based substantially on excessive
The company applied for six additional vehicles on A licences to supplement six A-licence vehicles (five on special A licences) at Reading. They established a base there in 1954 after British Road Servioes had drastically i.educed their fleet, and the business had exceeded all expectations.
Mr. C. R. Beddington, for the appellants, said that the figures for hiring were so high that unquestionably the Licensing Authority should have granted additional vehicles. The only question was the precise number. Witnesses at the original hearing had complained that sub-contractors' services were not always satisfactory.
Respondents to the appeal were the British Transport Commission; J. Curtis and Sons, Ltd., and H. Crapper and Son, Ltd., both of Oxford; Amey's Transport (Oxford), Ltd., and G. Cannon and Sons, Ltd., both of Abingdon, and Cropper and Colthrop Transport, Ltd., Thateham. Mr. Beddington said that B.R.S. were the only respondents who had vehicles in Reading or within 14 miles of the town. B.R.S. availability figures could not be relied upon, because the State haulage undertaking also produced figures to show that its business was flourishing and that sub-contractors had to be used. Hill's required mainly 10-thrillers. whereas the B.R.S. vehicles were principally above or below that capacity.
Mr. Beddington claimed that the availability figures submitted by all the respondents were open to serious criticism.
There was no evidence that had. as the Licensing Authority stated in refusing the application, obtained customers "by clearing-house methods." There was no obligation on their customers to try the objectors' services.
Mr. D. L. McDonnell, for four of the six respondents, said: "Where you obtain customers by asking to move their goods by using the vehicles of hauliers for whom you have offered to find loads, it cannot be said that hiring is substantial or excessive as a ground for the grants of additional vehicles."
Customers' evidence was "general and slight." With one exception there was never any suggestion that their work had increased.