Good Roads Would Halve Fuel Use
28th December 1956
Page 28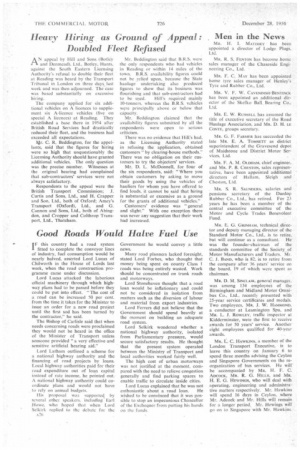 Page 28, 28th December 1956 —
Good Roads Would Halve Fuel Use
Close
IF this country had a road system I fitted to complete the conveyor lines of industry, fuel consumption would be nearly halved, asserted Lord Lucas of Chilworth in the House of Lords last week, when the road construction programme came under discussion.
Lord Lucas attacked the laborious official machinery through which highway plans had to he passed before they could be put into effect. "The cost of a road can be increased 50 per cent. from the time it takes for the Minister to issue an order for a new road project until the first sod has been turned by the contractor," he said.
The Bishop of Carlisle said that when needs concerning roads were proclaimed they would not be heard in the office of the Minister of Transport unless someone provided "a very effective and sensitive artificial hearing aid."
Lord Latham outlined a scheme for a national highway authority and the financing of road projects by loans. Local highway authorities paid for their road expenditure out of loan capital instead of rate income, he pointed out. A national highway authority could coordinate plans and would not have to rely on annual budgets.
His proposal was supported by several other speakers. including Earl Howe. who hoped that when Lord Selkirk replied to the debate for the a.26 Government he would convey a little news.
Many road planners lacked foresight, stated Lord Forbes, who thought that money being spent on county Class I roads was being entirely wasted. Work should be concentrated on trunk roads and motorways.
Lord Stonehaven thought that a road loan would be inflationary and could not be considered in isolation from matters such as the diversion of labour and material from export industries.
Lord Ferrers did not believe that the Government should spend heavily at the moment on building an adequate road system.
Lord Selkirk wondered whether a national highway authority, isolated from Parliamentary pressure, would secure satisfactory results. He thought that the present system operated between the Ministry of Transport and local authorities worked fairly well.
The high cost of urban motorways was not justified at the moment, compared with the need to relieve congestion generally and find parking spaces to enable traffic to circulate inside cities.
Lord Lucas explained that he was not enthusiastic about a road loan. He wished to he convinced that it was possible to stop an impecunious Chancellor of the Exchequer from putting his hands on the funds.