Minister of Works Examines Rationing
28th December 1956
Page 27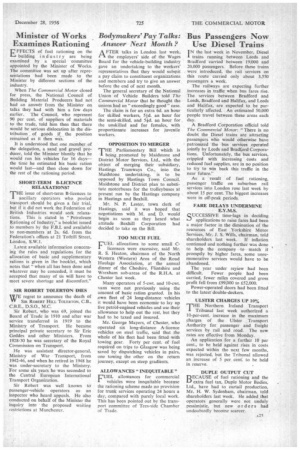 Page 27, 28th December 1956 —
Minister of Works Examines Rationing
Close
rFFECTS of fuel rationing on the
building in are being examined by a special "committee appointed by the Minister of Works. The committee was set up after representations had been made to the Minister by different sections of the industry.
When The Commercial Motor closed for press, the National Council of Building Material Producers had not had an answer from the Minister on talks they had with him a few days earlier. The Council, who represent 90 per cent, of suppliers of materials to the trade, told him then that there would be serious dislocation in the distribution of goods if the position remained as it then was.
It is understood that one member of the delegation, a sand and gravel producer, told the Minister bluntly that he would run his vehicles for 16 days— the time he estimated his basic ration would last—and then close down for the rest of the rationing period.
SHORT-TERM B-LICENCE RELAXATIONS?
THE issue of short-term B-licences to ancillary operators who pooled transport should be given a fair trial, but if it did not work the Federation of British Industries would seek relaxations. This is stated in "Petroleum Rationing of Industry," a booklet issued to members by the F.B.I. and available to non-members at 2s. 6d. from the Federation's offices at 21 Tothill Street, London, S.W.1.
Latest available information concerning the rules and regulations for the allocation of basic and supplementary rations is given in the booklet, which notes that when all has been done and whatever may be conceded, it must be accepted that many of us will have to meet severe shortage and discomfort."
SIR ROBERT TOLERTON DIES
WE regret to announce the death of SIR ROBERT HILL MURTON, C.B., C.B.E., D.S.O., M.C.
Sir Robert, who was 69, joined the Board of Trade in 1910 and after war service transferred in 1919 to the Ministry of Transport. He became principal private secretary to Sir Eric Geddes and other Ministers. From 1928-30 he was secretary of the Royal Commission on Transport.
He was assistant director-general, Ministry of War Transport, from 1942-46, and when he retired in 1948 he was under-secretary to the Ministry. For some six years he was seconded to the Central European International Transport Organization.
Sir Robert was well known to passenger-vehicle operators as an inspector who heard appeals. He also conducted on behalf of the Minister the inquiry into " the proposed waiting restrictions at Manchester.