Bus Passengers Now Use Diesel Trains
28th December 1956
Page 27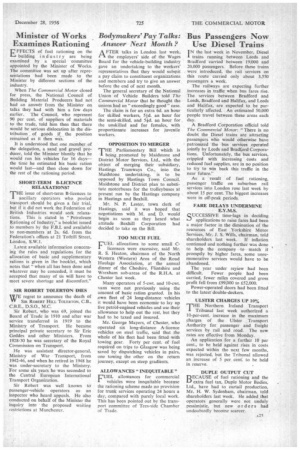 Page 27, 28th December 1956 —
Bus Passengers Now Use Diesel Trains
Close
IN the last week in November, Diesel 1 trains running between Leeds and Bradford carried between 19,000 and 20,000 passengers. Before these trains were introduced, the rail services on this route carried only about 3,550 passengers a week.
The railways are expecting further increases in traffic when bus fares rise. The services between Bradford and Leeds, Bradford and Halifax, and Leeds and Halifax, are expected to be particularly affected. An estimated 50,000 people travel between these areas each day.
A Bradford Corporation official told The Commercial Motor: "There is no doubt the Diesel trains are attracting passengers who would otherwise have patronized the bus services operated jointly by Leeds and Bradf,ord Corporations. Unfortunately, the bus services, crippled with increasing costs and reduced fuel supplies, are in no position to try to win back this traffic in the near future.'
As a result of fuel rationing, passenger traffic on suburban rail services into London rose last week by about 15 per cent. The biggest increases were in off-peak periods.
FARE DELAYS UNDERMINE
SUCCESSIVE time-lags in deciding applications to raise fares had been a major factor in the diminution of the resources of East Yorkshire Motor Services, Mr. J. S. Wills, chairman, told
shareholders last week. If inflation continued and nothing further was done to help the company to match it promptly by higher fares, some unremunerative services would have to be abandoned.
The year under review had been difficult. Fewer people had been carried, fewer miles covered and gross profit fell from £99000 to £52,000.
Power-operated doors had been fitted to the latest double-deckers.
ULSTER CHARGES UP 10% THE Northern Ireland Transport
Tribunal last week authorized a 10-per-cent. increase in the maximum charges of the Ulster Transport Authority for passenger and freight services by rail and road. The new rates are effective from Monday.
An application for a further 10 per cent., to be held against rises in costs expected within the next few months, was rejected, but the Tribunal allowed an increase of 5 per cent'. to be held in reserve.
DUPLE OUTPUT CUT
BECAUSE of fuel rationing and the extra fuel tax, Duple Motor Bodies, Ltd., have had to curtail production, Mr. H. W. Sydenham, chairman, told shareholders last week. He added that operators generally were not unduly pessimistic, but new or had undoubtedly become scarcer.