Lords Reject Lorry Driver's Appeal
28th December 1956
Page 26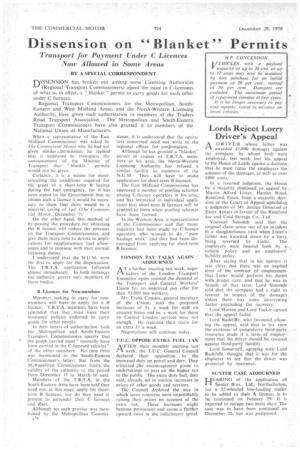 Page 26, 28th December 1956 —
Lords Reject Lorry Driver's Appeal
Close
A DRIVER whose father was I-1 awarded £1,600 damages against the company by whom both were employed, last week lost his appeal to the House of Lords against a decision that he must repay the employers the amount of the damages, as well as over :£400 costs.
In a reversed judgment, the House by a majority dismissed an appeal by Martin Alfred Lister, Hamlet Road, Romford, Essex, from a majority decision of the Court of Appeal upholding • a judgment of Mr. Justice Ormerod at Essex Assizes in favour of the Romford Ice and Cold Storage Co., Ltd.
Viscount Simonds said that the original claim arose out of an accident in a slaughterhouse yard when Lister's father was knocked down by a lorry being reversed by Lister. The employers were insured both by a vehicle policy and an employers' liability policy.
After saying that in his opinion it was clear that there was an implied term of the contract of employment that Lister would perform his duties with proper care, and that he was in breach of that term, Lord Simonds said that the company had a right to recover in respect of the damages unless there was some intervening factor precluding the recovery.
Lord Morton and Lord Tucker agreed that the appeal failed.
Lord Radcliffe, who favoured allowing the appeal, said that in his view the existence of compulsory third-party insurance made it a term of employment that the driver should be covered against third-party liability.
Lord Sornervell, agreeing with Lord Radcliffe. thought that it was for the employer to see that the driver was protected by insurance.
SUNTER CASE ADJOURNED
EARING of the application of I I Sunter Bros., Ltd., Northallerton, for a 32-wheeled low-loading trailer to be added to their A licence, is to he continued on January 29. It is expected to occupy two more days: The case was to have been continued on December 20. but was postponed.