One Hears
28th December 1956
Page 25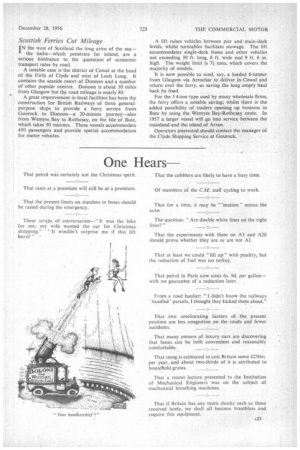 Page 25, 28th December 1956 —
One Hears
Close
That petrol was certainly not the Christmas spirit. That taxis at a premium will still be at a premium.
That the present limits on standees in buses should be raised during the emergency.
These scraps of conversation—" It was the bike for me; my wife wanted the car for Christmas shopping." "It wouldn't surprise me if this lift burst! That the cobblers are likely to have a busy time.
Of members of the C.M. staff cycling to work.
That for a time, it may be " 'mation "'minus the auto.
The question: "Are double white lines on the right lines? "
That the experiments with them on A3 and A20 should prove whether they are or are not Al. • That at least we could "fill up" with poultry, but the reduction of fuel was no turkey.
That petrol in Paris now costs 6s. 9d. per gallon— with no guarantee of a reduction later.
From a road haulier: "I didn't know the railways handled parcels, I thought they kicked them about."
That two ameliorating factors of the present position are less congestion on the roads and fewer accidents.
That many owners of luxury cars are discovering that buses can be both convenient and reasonably comfortable. • That smog is estimated to cost Britain some £250m. per year, and about two-thirds of it is attributed to household grates.
That a recent lecture presented to the Institution of Mechanical Engineers was on the subject of mechanical breathing machines.
That if Britain has any more shocks such as those received lately, we shall all become breathless and require this equipment.