Steps to Armageddon?
28th December 1956
Page 24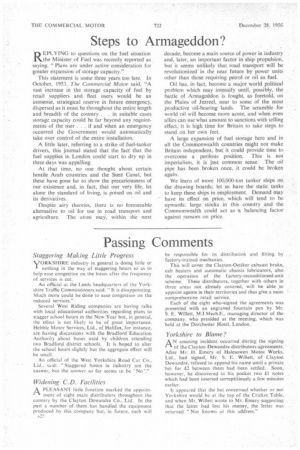 Page 24, 28th December 1956 —
Steps to Armageddon?
Close
D EPLYING to questions on the fuel situation _Mthe Minister of Fuel was recently reported as saying. "Plans are under active consideration for greater expansion of storage capacity."
This statement is some three years too late. In October, 1953, The Commercial Motor said, "A vast increase in the storage capacity of fuel by retail suppliers and fleet users would be an immense, strategical reserve in future emergency, dispersed as it must he throughout the entire length and breadth of the country . . in suitable cases storage capacity could be far beyond any require ments of the user . . . if and when an emergency occurred the Government would automatically take over control of the entire installation.
A little later, referring to a strike of fuel-tanker drivers, this journal stated that the fact that the fuel supplies in London could start to dry up in three days was appalling.
At that time, no one thought about certain hostile Arab countries and the Suez Canal, but these have gone far to show the precariousness of our existence and, in fact, that our very life, let alone the standard of living, is poised on oil and its deriv-atives.
Despite airy theories, there is no foreseeable alternative to oil for use in road transport and agriculture. The atom may, within the next decade, become a main source of power in industry and, later, an important factor in ship propulsion, but it seems unlikely that road transport will be revolutionized' in the near future by power units other than those requiring petrol or oil as fuel.
Oil has, in fact, become a major world political problem which may intensify until, possibly, the battle of Armageddon is fought, as foretold, on the Plains of Jezreel, near to some of the most productive oil-bearing lands. The scramble for world oil will become more acute, and when even allies can use what amouni to sanctions with telling effect, it is high time for Britain to take steps to stand on her own feet.
A large expansion of fuel storage here and in all the Commonwealth countries might not make Britain independent, but it could provide time to overcome a perilous position. This is not imperialism, it is just common sense. The oil pipe has been broken once, it could be broken again.
We learn of more 100,000-ton tanker ships on the drawing boards; let us have the static tanks to keep these ships in employment. Demand may have its effect on price, which will tend to be upwards: large stocks in this country and the Commonwealth could act as a balancing factor against ransom on price.