Taxation Procedure Being Tightened R EPORTS received by the' Traders' IN
28th December 1951
Page 33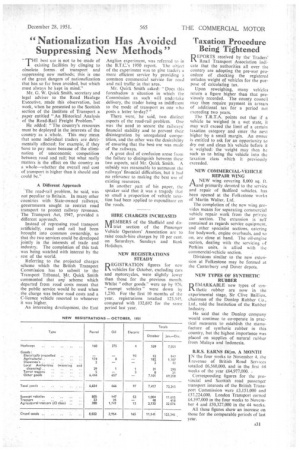 Page 33, 28th December 1951 —
Taxation Procedure Being Tightened R EPORTS received by the' Traders' IN
Close
Keywords :
Elastomers
,
Organic Polymers
,
Rubber
,
Vehicles
,
Dunlop Rubber
,
Synthetic Rubber
,
Transport
,
Natural Rubber
,
Dunlop
,
F B
,
Automobile
Road Transport Association indicate that the authorities all over the country are adopting the pre-war procedure of checking the registered unladen weight of vehicles for the pur
pose of calculating tax. • Upon reweighing, many vehicles return a figure higher than that previously recorded. The county council may then require payment in arrears of additional tax for a period not exceeding two years,
The T.R.T.A. points out that if a vehicle be weighed in a wet state, it may Well exceed the limit of a certain taxation category and enter the next higher by a small margin. An owner is entitled to ask for an Opportunity to dry out and clean his vehicle before it is weighed: the weight may then he such as to bring the Vehicle into the taxation class which it previously exceeded.
NEW COMMERCIAL-VEHICLE REPAIR WING
ANEW wing covering 8,000 sq. ft. and primarily devoted to the service and repair of Bedford vehicles, has been opened at the Folkestone works of Martin Walter, Ltd.
The completion of the new wing provides means for separating commercial vehicle repair work from the private car section. The extension is sett' contained as regards service equipment, and other specialist sections, catering for bodywork, engine overhauls, and so on, are close at hand. The oil-engine section, dealing with the servicing of Perkins units, is allied with the commercial-vehicle section.
Divisions similar to the new extension at Folkestone may be formed at the Canterbury and Dover depots.
NEW TYPES OF SYNTHETIC RUBBER •
REM ARKABLE new types of svnthetic rubber are now in the experimental stage, Sir Clive Milieu, chairman of the Dunlop Rubber Co., Ltd., told the Institution of the Rubber Industry.
He said that the Dunlop company would continue to co-operate in practical measures to establish the manufacture of synthetic rubber in this country, but the highest importance was placed on supplies of natural rubber from Malaya and Indonesia.
B.R.S. EARNS Wm, A MONTH 1 N the four weeks to November 4, the revenue of British Road Services totalled £6,560,000, and in the first 44 weeks of the year £64,977,000. ,
Corresponding figures for the provincial and Scottish road passenger transport interests of the British Transport Commission were £3,151,000 and 07,224,000. London Transport earned £4,597,000 in the four weeks to November 4 and £50,327,000 in the 44 weeks.
All these figures show an increase on those for the comparable periods of last year.