Six More London Tram Routes to Go
28th December 1951
Page 32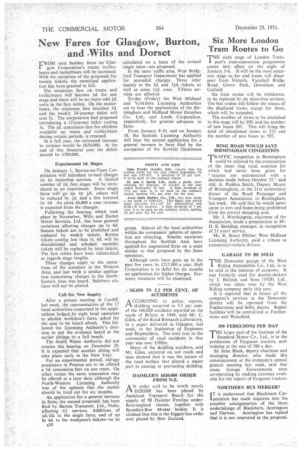 Page 32, 28th December 1951 —
Six More London Tram Routes to Go
Close
THE sixth stage of London Trans' port's tram-conversion programme comes into effect on the night of January 5-6. It will be the most extensive stage so far and trams will disappear from Victoria, Vauxhall Bridge Road, Grove Park, Downharn and Catford.
Six tram routes will be withdrawn, to be replaced by six motorbus services. The bus routes will follow the routes of the displaced trams, except for three, which wilt be extended.
The number of trams to be abolished in this stage will be 109, and the number of new buses 105. This will bring the total of abandoned trams to 523 and the number of new buses to 592.
RING ROAD WOULD SAVE BIRMINGHAM CONGESTION
TRAFFIC congestion in Birmingham 1 could be relieved by the construction of the inner ring road, sanction for which had never been given for "reasons not unconnected with a decision made before October 25," said Ald. A. Paddon Smith, Deputy Mayor of Birmingham, at the 21st anniversary dinner of the Road Passenger and Transport Association, in Birmingham, last week. He said that be would never agree to cars and buses being prohibited from the central shopping area.
Mr. J. Worthington, chairman of the Association, made a presentation to Mr. D. E. Skelding, manager, in recognition of 21 years' service.
Mr. R. Stuart Pilcher, West Midland Licensing Authority, paid a tribute to commercial-vehicle drivers.
GARAGE TO BE SOLD
THE Doncaster garage of the West Riding Automobile CO., Ltd:, is to be sold in the interests of economy. It was 'formerly used for double-deckers by J. Bullock and Sons (1928). Ltd., which was taken over by the West Riding company early this year.
It is reported that in future all the company's services in the Doncaster district will be operated from the Featherstone and Selby depots. Repair facilities will be centralized at Featherstone and Wakefield.
300 FERGUSONS PER DAY
THE larger part of the business of the Standard Motor Co., Ltd., is'in the production of Ferguson tractors, now running at the rate of 300 a day.
Sir John Black, deputy chairman and managing director, who made this announcement at the company's annual general meeting last week, said that many foreign Governments were co-operating by making currency available for the import of Ferguson tractors.
NORTHERN BUS MERGER?
I T is understood that Blackburn Cor poration has made inquiries into the possible amalgamation of the three undertakings of Blackburn, Accrington and Darwen. Accrington has replied that it is not interested in the proposal.