64 Per Cent. Increase in Coach Fares Not Enough
28th December 1951
Page 29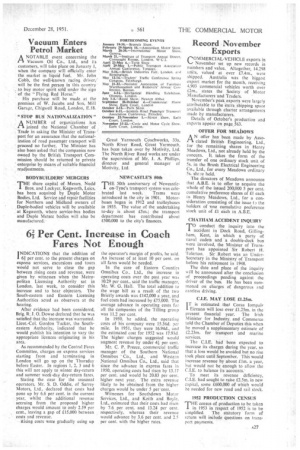 Page 29, 28th December 1951 —
64 Per Cent. Increase in Coach Fares Not Enough
Close
I NDICATIONS that the addition of 61 per cent, to the present charges on express services, excursions and tours would not serve to close the gap between rising costs and revenue, were given by witnesses when the Metropolitan Licensing Authority sat in London, last week, to consider this increase and to hear objectors. The South-eastern and Eastern Licensing Authorities acted as observers at the hearing.
After evidence had been considered, Brig. 12, J. 0. Dowse declared that he was satisfied that the increase was warranted. Lieut.-Col. Gordon Tucker, the Southeastern Authority, indicated that he would publish his intention to vary the appropriate licences originating in his area.
As recommended by the Central Fares Committee, charges on express services starting from and terminating in London will go up on the Thursday before Easter. In regions 1, 2, 3 and 6 this will not apply to winter day-return and summer week-day day-return fares.
Stating the case for the seasonal operators, Mr. S. D. Oddie, of Surrey Motors, Ltd., declared that costs had gone up by 6.6 per cent. in the current year, whilst the additional revenue accruing from the proposed higher charges would amount to only 2.59 per cent., leaving a gap of £15,000 between costs and revenue.
Rising costs were gradually using up the operator's margin of profits, he said. An increase of at least 10 per pew. on all fares would be needed.
In the case of Eastern Counties Omnibus Co., Ltd., the increase in operating costs over the past year was 10.29 per cent., said the traffic manager, Mr. W. G. Hall. The total addition to the wage bill as a result of the two Brierly awards was £142,000 a year, and fuel costs had increased by £75,000. The average advance in operating costs fur all the companies of the Tilling group was 11.2 per cent.
In 1950, he added, the operatine costs of his company were I5.36d. per mile. In 1951, they were 16.94d., and the estimated cost for 1952 was 17.93d. The higher charges suggested would augment revenue by under 41 per cent.
Mr. C. P. Preece, commercial traffic manager of the Southern National Omnibus Co., Ltd., and Western National Omnibus Co., Ltd., said that since the advance in express fares in 1950, operating costs had risen by 13.17 per cent. and would be 20.83 per cent. higher next year. The extra revenue likely to be obtained from the higher charges would be under 5 per-cent.
Witnesses for Southdown Motor Services, Ltd., and Keith and Boyle. Ltd., estimated that their costs had risen by 7.6 per cent. and 13.24 per cent. respectively, whereas their revenue would advance by 3.6 per cent. and 2,5 per cent, with the higher rates.