ONE HEARS
28th August 1928
Page 3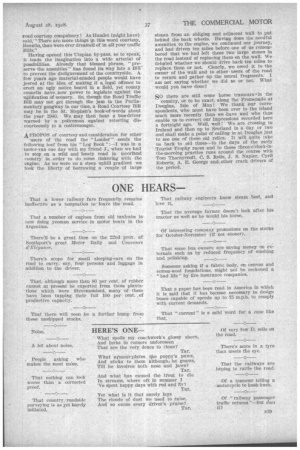 Page 3, 28th August 1928 —
ONE HEARS
Close
That a lower railway fare frequently remains ineffective as a temptation to leave the road. .
That a number of engines from old taxicabs is now doing yeoman service in motor boats in the Argentine.
There'll be a great time on the 22nd pros. at Southport's great Motor Rally and ConCOU17 d'El(gance.
There's scope for small sleeping-cars on the road to carry, say, four persons and luggage in addition to the driver.
• That, although more than 80 per cent, of rubber cannot at 'present be exported from those plantations which were Stevensonised, many of them have been tappipg their full 100 per cent. , of productive capacity.
That there will soon be a further hump from these unshipped stocks.
Noise.
A lot about noise.
, People asking who makes the most no:mse.
That nothing can look worse than a corrected proof.
That coUntryiroadside purveying is as yet barely initiated. That railway engineers know steam best, and love it.
That the average farmer doesn't look after his tractor as well as he would his horse.
Of interesting company promotions on the stocks for October-November (if not sooner).
That some bus owners are saving money on externals such as by reduced frequency of washing and polishing.
Someone asking if .a fabric body, on canvas and cotton-wool foundations, might not be reckoned a " bad life" by fire insurance companies.
That a paper has been read in America in which it is said that it has become necessary to design buses capable of speeds up to 75 m.p.h. to comply with current demands.
That " current " is a mild word for a case like that.
Of very few D. sells on the road.
There's mOre in a tyre than meets the eye.
That the railways are hoping to rattle the road.
Of a tramcar telling a .inotorcycle to hush-bush.
Of " railway passenger traffic returns "—but does it?