PREACHING " ELECTRICITY " BY LORRY.
28th August 1928
Page 27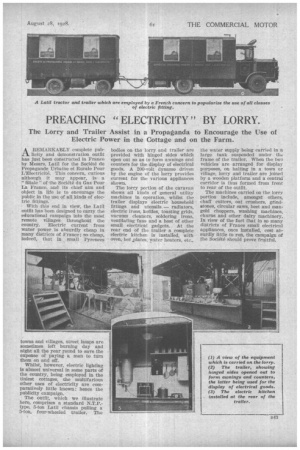 Page 27, 28th August 1928 —
PREACHING " ELECTRICITY " BY LORRY.
Close
The Lorry and Trailer Assist in a Propaganda to Encourage the Use of Electric Power in the Cottage and on the Farm.
AREMARKABLY complete pubcity and demonstration outfit has just been constructed in France by Messrs. Latil for the Societe de Propagande Urbaine et Rurale Pour L'Electricite. This concern, curious although it may appear, is a " finale " of the Societe du Gaz Pour La France, and its chief aim and object in life is to encourage the public in the use of all kinds of electric fittings.
With this end in view, the Latil outfit has been designed to carry the educational campaign into the most remote villages throughout the country. Electric current from water power is absurdly cheap in many districts of France; so cheap, indeed, that in small Pyrenees towns and villages, street lamps are sometimes left burning day and night all the year round to save the expense of paying a man to turn them on and off.
Whilst, however, electric lighting is almost universal in some parts of the country, being employed in the tiniest cottages, the multifarious other uses of electricity are comparatively little known: hence the publicity campaign.
The outfit, which we illustrate here, comprises a standard N.T.P.type, 5-ton Latil chassis pulling a 5-ton, four-wheeled trailer. The bodies on the lorry and trailer are provided with hinged sides which open out so as to form awnings and counters for the display of electrical goods. A 200-volt dynamo driven by the engine of the lorry provides current for the various appliances shown.
The lorry portion of the caravan shows all kinds of general utility machines in operation, whilst the trailer displays electric household fittings and utensils.— radiators, electric irons, kettles, toasting grids, vacuum cleaners, soldering trims, ventilating fans and a host of other small electrical gadgets. At the rear end of the trailer a complete electric kitchen is installed, with oven, hot ,plates, water heaters, etc., the water supply being carried in a large tank suspended under the frame of the trailer. When the two vehicles are arranged for display purposes, on halting in a town or village, lorry and trailer are joined by a wooden platform and a central corridor is thus formed from front to rear of the outfit.
The machines carried on the lorry portion include, amongst others, chaff cutters, oat crushers, grindstones, circular saws, beet and mangold choppers, washing machines, churns and other dairy machinery. In view of the fact that in so many districts of France small electrical appliances, once installed, cost absurdly little to run, the campaign of the Societe should prove fruitful.