TAPPING CITY TRAFFIC.
28th August 1928
Page 24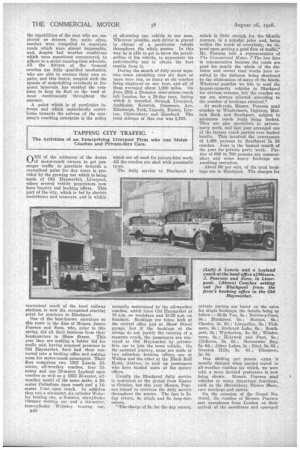 Page 25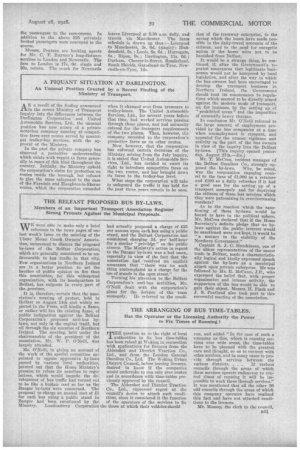 Page 24, 28th August 1928 —
TAPPING CITY TRAFFIC.
Close
The Activities of an Enterprising Liverpool Firm who run Motor Coaches and Private-hire Cars.
ONE of the evidences of the desire of motor-coach owners to get passenger traffic to gravitate towards a centralised point for day tours is provided by the growing use which is being made of Old Haymarket, Liverpool, where several vehicle proprietors now have inquiry and booking offices. This part of the city, which is fed by electric motorbuses and tramcars, and is within
convenient reach of the local railway stations, is now the recognized starting point for journeys to Blackpool.
One of the best-known operators on this route is the firm of Messrs. James Pearson and Sons, who, prior to this spring, did all their business from their headquarters in Shaw Street. This year they are making a bolder bid for traffic and, having acquired premises in Old Haymarket, have had them converted into a hooking office and waiting room for motor-coach passengers. Their fleet comprises two 1927 Lancia 23seater, all-weather coaches, four 33seater and one 28-seater Leyland open coaches as well as a 1925 23-seater, allweather model of the same make, a 28seater Palladium open coach and a 14seater Unic open coach. In addition they run a six-seater, six cylinder Wolseley touring car, a 6-seater, six-cylinder isatmler touring car and a six-seater, four-cylinder Wolseley touring ear,
which are all used for private-hire -work. All the coaches are shod with pneumatic tyres.
The daily service to Blackpool is normally maintained by the all-weather coaches, which leave Old Haymarket at 10 a.m. on weekdays and 10.30 a.m. on Sundays. Bookings are taken both at the central office and at Shaw Street garage, but if the bookings at the garage do not justify the running of a separate coach, the passengers are conveyed to Old Haymarket by privatehire car to join the town vehicle. On the outward journey, stops are made at two suburban booking offices, one at Walton and the other at the Black Bull Hotel, Aintree, to pick up passengers who have booked seats at the agency offices.
Usually the Blackpool daily service is restricted to the period from Easter to October, but this year Messrs. Pearson intend to continue the daily service throughout the winter. The fare is 5s. clay return, 4s, single and 8s. long-date return.
"The charge of 5s. for the day return,
which is little enough for the 95-mile journey, is a popular price and, being within the reach of everybody, we depend upon getting a good flow of traffic," Mr. Pearson told a representative of The Commercial Motor. The low fare is remunerative because the roads are good for nearly the whole of the distance and recent road works have resuited in the distance being shortened by the elimination of many of the bends. Wherever possible we like to send the largest-capacity vehicles to Blackpool for obvious reasons, but the coaches we use are always selected according to the number of bookings reeeived."
At week-ends, Messrs. Pearson send coaches to Windermere, Ingleton, Matlock Bath and Southport, subject to minimum coach loads being booked. They are sdso specialists in privateparty work, and last year arranged one of the largest coach parties ever booked locally. This involved the conveyance of 1,496 persons to Southport in 58 coaches. June is the busiest month of the year for private party work. Parties of 600 to 700 persons Are commonplace and some heavy bookings are awaiting execution.
About 50 per cent, of the total bookings are to Blackpool. The charges for, private parties are based on the rates for single bookings, the details being as follow :—Belle Vue, 5s.; Bettws-y-Coed, 8s. ; Blackpool, 5s. ; Buxton, 6s.; Chester, 3s. 6d.; Llangollen, 5s.; Pickmere, is.; Rini yard Lake, 6s.; Southport, 3s.; Warburton, 3s. 6d.; Windermere, Sc.; Holywell and Pant, 5s.; Clithcroe, 55. 6d.; Morecambe Bay, 55. 6d. ; Abbey Lakes, lie.; Rhyl, 5s. 6d.; Overton Hills, :Is. 6d.; Ellesmere, 64.1.
One shilling per person extra is usually charged when partici travel in all-weather coaches for which, we were told, a more decided preference is now being shown. Messrs. Pearson send vehicles to many important functions, such as the Shrewsbury Flower Show, race meetings and sports.
On the occasion of the Grand National, the coaches of Messrs. Pearson met aeroplanes from London on their arrival at the aerodrome and conveyed the passengers to the race-course. In addition to the above 325 privately booked passengers were conveyed to the course.
Messrs. Pearson are booking agents for Mr. C. P. Raymer's long-distance Bervices to London and Newcastle. The fare to London is 17s. 6c1. single and 30s. return. The coach for Newcastle leaves Liverpool at 8.30 a.m. daily, and travels via Manchester. The fares schedule is drawn up thus :—Liverpool to Manchester, 3s. 6d. (single) ; Huddersfield, 5s.; Leeds, 6s. 6d. ; Harrogate, 8s.; Ripon, 9s. ; Darlington, 11s. 6d. ; Durham. Chester-le-Street, Sunderland, South Shields, Gateshead-On-Tyne, Neweastle-on-Tyne, 14s.
Tags
Locations
:
TAPPING CITY
,
Manchester
,
Southport
,
London
,
Bath
,
Liverpool
,
Sunderland
,
Chester
,
Bervices
,
Windermere
,
Durham
,
Leeds
,
Newcastle