I A PIQUANT SITUATION AT DARLINGTON. An Unusual
28th August 1928
Page 25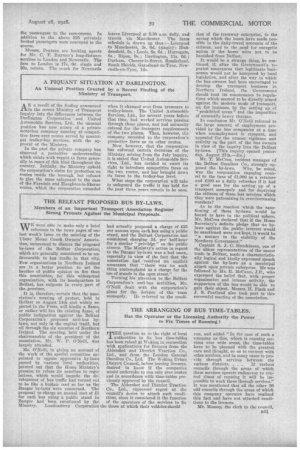 Page 25, 28th August 1928 —
I A PIQUANT SITUATION AT DARLINGTON. An Unusual
Close
Position Created by a Recent Finding of the Ministry of Transport.
AS a result of the finding announced in the recent Ministry of Transport inquiry into the differences between the Darlington Corporation ' and United Automobile Services, Ltd., the unusual position has now arisen of a private motorbus company running at corapetifive fares ov.er routes served by municipal trolley-bus services, with the am proval of the Ministry.
In the past the private company has observed a protective understanding which exists with regard to fares generally in cases of this kind throughout the country. Initially, the Ministry upheld the corporation's claim for protection on routes inside the borough, but refused to give the same safeguard in the ease of the Foredole and Houghton-le-Skerne routes, which the corporation extended
when it changed over from tramcars to trolley-buses. The United Automobile Services, Ltd., for several years before that time, had worked services passing through these places, and had naturally catered for the transport requirements of the two places. Then, however, the company accorded to the corporation's protective fares as on other routes.
Now, however, that the corporation has enforced certain decisions of the Ministry arising from the July inquiry, it is stated that United Automobile Services, Ltd., has decided to exert its right to introduce competitive fares on the two routes, and has brought down its tares to the trolley-bus level.
What steps the corporation will take to safeguard the traffic it has held for the past three years remain to be seen.