L.G.O.C. COACHING PROGRESS.
28th August 1928
Page 23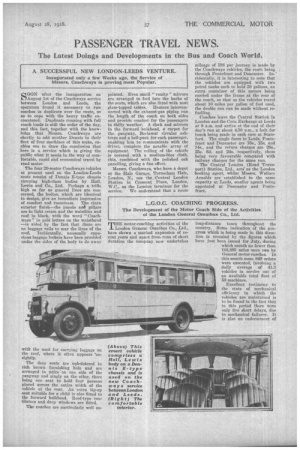 Page 24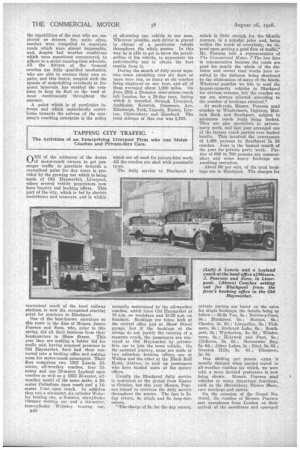 Page 23, 28th August 1928 —
L.G.O.C. COACHING PROGRESS.
Close
The Development of the Motor Coach Side of the Activities of the London General Omnibus Co., Ltd.
THE motor-coaching activities of the London General Omnibus Co., Ltd., have shown a marked expansion of recent years and apart from runs of short duration the company now undertakes
long-distance tours throughout the country. Some indication of the progress which is being made in this direction is revealed by the figures which have just been issued for July, during which month no fewer than 103,895 miles were ran by General motor coaches. In this month some 849 orders were executed, involving a daily average of 41.3 vehicles in service out of an available total fleet of 50 machines.
Excellent testimony to the state of mechanical efficiency in which the vehicles are maintaioed is to be found in the fact that in this period there were only five short delays, due to mechanical failures. It is also an endorsement of the capabilities of the men who are employed as drivers, for, quite often, coaches were compelled to negotiate roads which were almost impassable, and, despite bad weather conditions which were sometimes encountered, to adhere to a strict running-time schedule. All the drivers of the General coaches are fully qualified mechanics, ' who are able to execute their own repairs, and this factor, coupled with the system of undertaking overhauls at frequent intervals, has enabled the company to keep its fleet on the road almost continuously throughout the summer.
A point which is of particular interest and which undoubtedly contributes towards the suCcess of the company's coaching enterprise is the policy of allocating one vehicle to one man. Wherever possible, each driver is placed . charge of a particular vehicle throughout the whole season. In this way he is able to get to know the peculiarities of his vehicle, to appreciate its individuality and to obtain the best results from it.
During the month of July seven separate tours extending over six days or more were run, as many as six coaches being employed on one tour, and all of them averaged about 1,000 miles. On June 28th a 28-seater semi-saloon coach left London_ for a 28-day tour, during which it travelled through Liverpool, Ambleside, Keswick, Grasmere, Ayr, Edinburgh, York, Lincoln, Exeter, Lynton, Glastonbury and Hereford. The total mileage of this run was 2,763.