SERVICING ALKALINE ACCUMULATORS.
28th August 1928
Page 15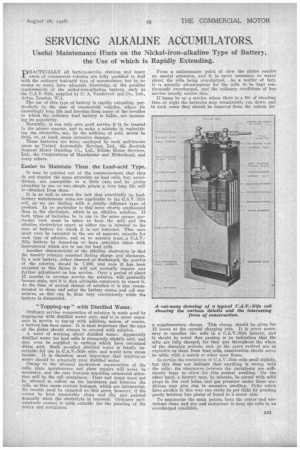 Page 15, 28th August 1928 —
SERVICING ALKALINE ACCUMULATORS.
Close
Useful Maintenance Hints on the Nickel-iron-alkaline Type of Battery, the Use of which is Rapidly Extending.
TDRACTICALLY all battery-service stations and many users of commercial vehicles are fully qualified to deal with the ordinary lead-acid type of accumulator, but by no means so many have adequate knowledge of the peculiar requirements of the nickel-iron-alkaline battery, such as the C.A.V.-Nife, supplied by C. A. Vandervell and Co., Ltd., Acton, London, W.3.
The use of this type of battery is rapidly extending, particularly in the case of commercial vehicles, where its exceedingly long life and freedom from many of the troubles to which the ordinary lead battery is liable, are increasing its popularity.
Naturally, it can only give good service if it be treated in the proper manner, and to make a mistake in replenishing the electrolite, say, by the addition of acid, would be fatal, or, at least, cause extensive damage.
These batteries are being employed by such well-known users as United Automobile Services, Ltd., the Scottish General Motor Omnibus Co., Ltd., Ribble, Motor Services; Ltd., the Corporations of Manchester and Birkenhead, and ninny others.
Easier to Maintain Than the Lead-acid Type.
It may be pointed out at the commencement that they do not require the same attention as lead cells, but, nevertheless, are susceptible to a little care, and by giving attention to one or two simple points a very long life will be obtained from them.
. It is as well to stress the fact that practically no leadbuttery maintenance rules are applicable to the C.A.V.-Nife cell as we are dealing with a ,totally different type of product. In no particular is this more clearly emphasized than in the electrolyte, which is an alkaline solution. If both types of batteries be in use in the same garage particular care must be taken to keep the acid and the. alkaline electrolytes apart, as either one is inimical to the type of battery for which, it is not intended. This tare must even be extended to the use of separate utensils for each type of solution, and on no account must.a C.A.V.Nife battery be topped-up or have gravities taken with instruments which are in use for lead cells.
Another characteristic of the alkaline electrolyte is that the density remains constant during charge and discharge. In a new battery, either charged or discharged, the gravity of the solution should be 1.190, and once it has been adjusted 'to this figure it will not normally require any further adjustment on bus service. Over a period of about 12 months in average service the solution will gradually , become stale, and it is then advisable completely to renew it. At the time of annual change of solution it is also recommended to clean and paint the battery crates and' cell containers, as this can be done very conveniently while the battery is dismantled.
" Topping-up " with Distilled Water.
Ordinary service evaporation of solution is made good by topping-up with distilled water only, and it is never necessary in service to top-up with solution, unless, of course, a battery has been upset. It is most important that the tops of the plates should always bc covered with solution. .
A word of warning about distilled water. Apparently distilled water for lead cells is frequently slightly acid, and may even be supplied in carboys which have contained dilute acid. Such so-called distilled water is totally unsuitable for use in C.A.V.-Nife cells, and would soon cause trouble. It is therefore most, important that topping-up water should be genuinely pure' distilled water.
Owing to the all-steel mechanical construction of the cells, plate maintenance and plate repairs will never be necessary, and the only features requiring occasional attention will be the cell containers. Dust and damp must not be allowed to collect on the insulators and between the cells, as they cause current leakages, which are detrimental. No trouble need be expected On this score, however, if the crates be kept reasonably clean and dry and painted annually when the electrolyte 'is renewed. Ordinary antisulphuric enamel is quite suitable for the painting of the crates and containers. From a maintenance point of view the plates require no special attention, and it is .never necessary to worry about the cells being overcharged. As a matter of fact, it is actually advantageous for the cells to be kept continuously overcharged, and the ordinary conditions of bus service usually ensure this.
If buses be on a service where there is a Tot of standing time at night the batteries may occasionally run down, and in such cases they should be removed from the vehicle for
a supplementary charge. This charge should be given for 12 hours at the normal charging rate. It is never necessary to equalize the cells in a C.A.V.-Nife battery, and It should be noted that gassing is no indication that the cells are fully charged, for they gas throughout the whole of the charging periods, and, as the gases evolVed are as explosive as those from lead tells, examination should never be Wide with a match or other open time.
In service the containers of C.A.V.-Nife cells swell slightly, but this does not indicate that anything is wrong with the cells; the clearances between the containers are sufficiently large to allow for this normal swelling. On the other band, a battery may, by mistake, be stored with solid plugs in the vent holes, and gas pressure under these conditions may give rise to excessive swelling. Cells which have swollen in this way can easily be put right by pressing gently between two pieces of hoard in a screw vice.
To saimmarize the main points, keep the crates and containers clean and dry and endeavour to keep the cells in an overcharged condition.