Bent Wood to Secure Stronger Body Framework.
28th August 1928
Page 14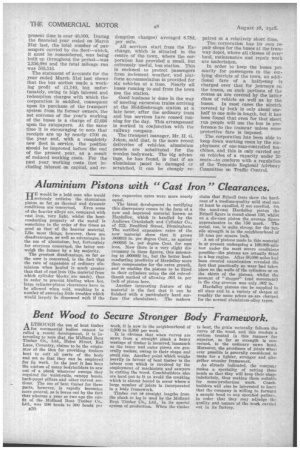 Page 14, 28th August 1928 —
Bent Wood to Secure Stronger Body Framework.
Close
ALTHOUGH the use of bent timber for commercial bodies cannot be called a recent development, it is interesting to note that the Midland Bent Timber Co., Ltd. Helen Street, Red Lane, Coventry, claims to be the originator of the idea for providing timbers bent to suit all parts of 'the body and set so that they can be employed for jig work. In the past it has been the custom of many bodybuilders to saw out of a plank whatever sweeps they required for waist-rails, canopy bends, back-panel pillars and other curved sections. The use of bent timber for these parts, however, is rapidly becoming more general, as is borne out by the fact that whereas a year or two ago the outfit of the Midland Bent Timber Co., Ltd., was 200 bends to 300 bends per
1130
week, it is now in the neighbourhood of 2,000 to 3,000 per week.
it is obvious that when curves are sawn from a straight plank a heavy wastage of timber is incurred, inasmuch as the inner and outer pieces are generally useless, owing to their shape and small size. Another point which weighs heavily in favour of bent timber is the labour cost which is involved by the employment of machinists and sawyers in cutting the wood. Coachbuilders also are hard put to it to avoid the creaking which is almost bound to occur where a large number of joints is incorporated in a body framework.
Timber cut i1 straight lengths from the plank or log is used by the Midland Bent Timber Co., Ltd., in its special system of production. When the timber is bent, the grain naturally follows the curve of the wood, and this renders a section treated in this manner far superior, so far as strength is concerned, to the ordinary sawn bend. Moreover, the avoidance of joints wherever possible is generally considered to make for a lighter, stronger and altogether sounder framework.
As already indicated, the company makes a speciality of setting these bends so that they will keep their shape indefinitely, thus making them suitable for mass-production work. Coachbuilders will also be interested to learn that the company is willing to forward a sample bend to any specified patters, in order that they may adjudge the quality and nature of the work carried out in its factory.