News and Comment.
28th August 1913
Page 9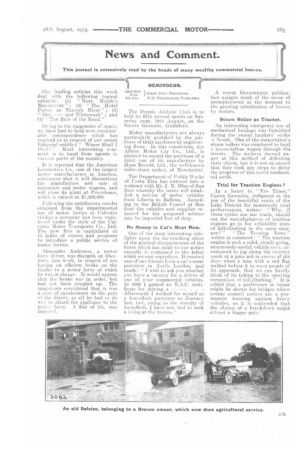 Page 10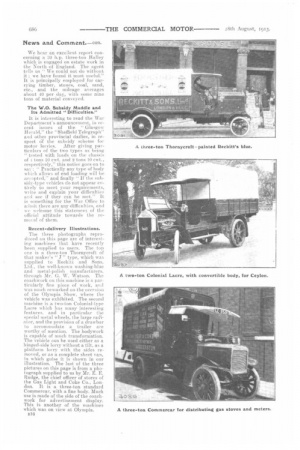 Page 9, 28th August 1913 —
News and Comment.
Close
Keywords :
Agricultural Machinery
,
Road Transport
,
Traction Engine
,
Tractors
,
Vehicles
,
Thornycroft
,
Truck
,
Lorry
,
Commercial Vehicle
,
Ace
,
Steam Wagon
This journal is extensively read by the heads of many wealthy commercial Our leading articles this week deal with the following topical subjects : (1) " Next Month's Mameuvi es " ; (2) "The Hotel Porter as Taxicab Hirer " ; (3) " Dirt -and Whitewash" ; and (4) " The Rule of the Road."
Owing to the exigencies of space, we have, had to hold over considerable correspondence which has reached us in respect of our recent Editorial entitled " Where Shall I Deal " Much interesting oomment is to hand from agents in ai1011S parts of the country.
It is reported that the American Locomotive Co., one of the largest motor manufacturers in America, announces that it will discontinue the manufacture and sale of motorcars and motor wagons, and will close its plant at Providence, which is valued at 1,200,000.
Following the satisfactory results obtained from the experimental use of motor lorries at Calcutta (India) a company has been registered under the style of the Calcutta. Motor Ttansports Co., Ltd. The new firm is capitalized at 13 lakhs of rupees and proposes to introduce a public service of motor lorries.
Alexander Anderson, a motor lorry driver, was charged, at Aberdeen, last wnek, in respect of not having an efficient brake On the trailer to a motor lorry of which he was in charge. It would appear that the brake was in order, but had not been coupled up. The magistrate considered that it was a case of carelessness on the part of the driver, as all he had to do was I,o attach the appliance to the meter lorry. A fine of 10s, was imposed.
The Dennis Athletic Club is to hold its fifth annual sports on Saturday next, 30th August, on the Sports Grounds, Guildford.
Motor manufacturers are always particularly gratified by the purchase of their machines by engineermg firms, in this connection, the Albion Motor Car Co., Ltd., is pleased to record the purchase of a third van of its manufacture by Hans Renold, Ltd., the well-known roller-ehain maker, of Manchester.
The Department of Public -Works of Costa Rica has entered into a. contract with Mr. J. N. Bliss of San Jose whereby the latter will establish a service of motor vehicles from Liberia to Balton& According to the British Consul at San Jose the vehicles and supplies required for the proposed scheme may he imported free of duty.
No Money in Cat's Meat Now.
One of the most interesting sidelights upon the far-reaching effect of the gradual disappearance of the horse which has come to our notice recently is contained in the letter which we now reproduce. It reached one of our friends ftom a cat's-meat purveyor in North London, and reads : " I wish to ask you whether you have a vacancy for a driver of one of your commercial vehicles. In 1901) I gained an R.A.C. certi ficate for driving a • ---. . . Afterwards I worked for myself as a horseflesh purveyor to January last, hut, owing to the scarcity of horseflesh, I have now had to seek a living at the motors." A recent Government publication assigns much of the cause of unemployment at the moment to the growing substitution of horses by motors.
Steam Roller as Tractor.
An interesting emergency use of mechanical haulage was furnished during the recent hauliers strike Neath. One of the corporation's steam rollers was employed to haul a house-refuse wagon through the streets. The strikers showed anger at this method of defeating their object, but it is not on record that they took any steps to delay the progress of this novel mechanical outfit.
Trial for Traction Engines?
In a letter to " The Times," Canon Rawnsley, indignant at the use of the beautiful roads of the Lake District for motorcycle trial performances, writes : " Why, if these cycles use our roads, should not the manufacturers of traction engines go in for reliability tests of hill-climbing in the same manner? " "The Evening News " writes in comment : " The traction engine is such a solid, steady-going, enormously-useful vehicle WO, accustomed to jog along the country roads at a pace not in excess of the days when a man 'with a red flag walked before it to warn people of its approach, that we can hardly think of its taking to the sporting occupation of hill-climbing." It is added that a preference in venue might be shown for bridges where county council notices are a permanent warning against heavy vehicles, as it is contended that the chance of a breakdown might attract a bigger gate! We hear an excellent report concerning a 30 hp. three-ton Halley which is engaged on estate work in the North of England. The agent tells us " We could not do without it ; we have found it most ilseful." It is principally employed for carrying timber, stones, coal, sand, etc., and the mileage averages about 40 per day, with some nine tons of material conveyed.
The W.O. Subsidy Muddle and Its Admitted "Difficulties."
It is interesting to read the War Department's announcement, in recent issues of the " Glasgow Herald," the "Sheffield Telegraph" and other provincial dailies, in respect df the subsidy scheme fm. motor lorries. After giving particulars of the two types as being " tested with loads on the chassis of tons 10 cwt. and 2 tons 10 cwt., respectively," this notice goes on to say : " Practically any type of body which allrms of end loading will be aenpted," and finally " If the subsidy-type vehicles do not appeal' entirely to meet your requirements, write arid explain your difficulties and see if they can be met." It is something for the War Office to admit there are any difficulties, and we welcome this statement, of the official attitude towards the removal of them.
Recent-delivery Illustrations.
The three photographs reproduced en this page are of interesting machines that have recently been supplied to users. The top one is a three-ton Thornycroft of that maker's " J" type, which was supplied to Reckitt and Sons, Ltd., the well-known washing-blue and metal-polish in through Mr. G_ W. Watson. The coachwork on this machine is a particularly fine piece of work, arid was much remarked on the °COP sion of the Olympia Show, where the vehicle was exhibited. The second machine is a two-ton Colonial-type Lacre which has many interesting features, and in particular the special metal wheels, the large rat.?iator, and the provision of a drawbar to accommodate a trailer are worthy of mention. The bodywork is capable of much transformation. The vehicle can be used either as a hinged-side lorry without a tilt, as a platform lorry with the sides removed, or tis a complete sheet van, in which guise it is shown in our illustration. The last of the three pictures on this page is from a photograph supplied to us by Mr. E. E. Rudge, the chief officer of stores of the Gas Light and Coke Co., London. It is a three-ton standard Commercar, with a fine body. Much use is made of the side of the coachwork for advertisement display. This is another of the machines which was on view at Olympia. BIG