BUS PROGRESS IN NORTH WALES.
28th April 1925
Page 24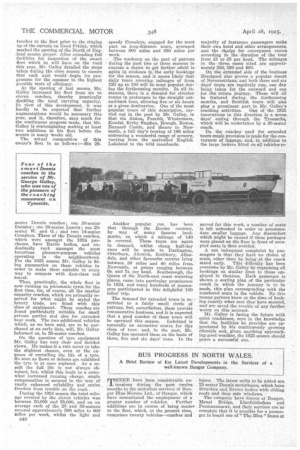 Page 25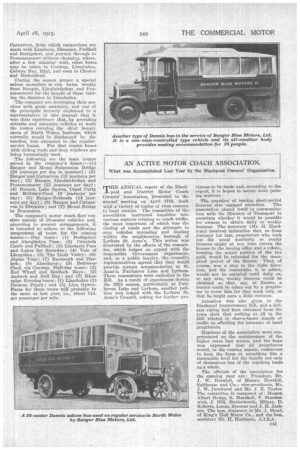 Page 24, 28th April 1925 —
BUS PROGRESS IN NORTH WALES.
Close
A Brief Review of t'ae Latest Developments in the Services of a well-known Bangor Company.
THERE have been considerable extensions during the past twelve months in the motorbus services of Bangor Blue Motors, Ltd., of Bangor, which have necessitated the employment of a
greater number of vehicles. Further additions are in course of being made. to the fleet, which, at the present time, comprises twenty vehicles—coaches and buses. The latest units to be added are 25-seater Dennis motorbuses, which have Strachan and Brown bodies with sliding roofs and drop side windows.
The company have depots at Bangor, Menai Bridge, Llanfairfechan and Penmaenmawr, and their services are so complete that it is possible for a passenger to board one of" The Blue buses at Carnarvont, from which connections are made with Llanberis, Ebenezer, Pwllheli and Beddgelert, and journey through to Penmaenmawr without changing, there, after a few minutes' wait, other buses may be taken to Conway, Llandudno, Colwyn Bay, Rhyl, and even to Chester and Birkenhead.
During the season proper a special saloon motorbus is run twice weekly from Bangor, Llanfairfechan and Penmaentnawr for the benefit of those visiting the theatres in Llandudno.
The company are developing their services with great assiduity, and one of the principals recently explained to a representative of this journal that it was their experience that, by providing suitable and adequate vehicles to work the routes covering the chief beauty spots of North Wales, business, which normally would be discharged by the coaches, was attracted to the regularservice buses. For that reason buses with sliding roofs and drop windows are being increasingly used.
The following are the main routes served by the company's buses:—(l) Bangor and Menai Suspension Bridge (24 journeys per day in summer) ; (2) Bangor and Carnarvon (13 journeys per clay); (3) Bangor, Llanfairfechan and Pentaaenmawr (13 journeys per day) ; (4) Bangor, Lake Ogwen, Capel Curig and Bettws-y-Coed (3 journeys per day) ; (5) Bangor-Bethesda (14 journeys per day) ; (6) Bangor and Carnarvon to Ebenezer ; and (7) Menai Bridge to Beaumaris.
The company's motor coach fleet consists mainly of 28-seater vehicles and according to present arrangements it is intended to adhere to the following programme of tours for the coming season :—Day tours: (1) Beddgelert and Aberglaslsra Pass ; (2) Criccieth Castle and Pwilheli; (3) Llanberis Pass and Lakes for Snowdon; (4) Vale of Llangollen ; (5) The Lledr Valley ; (6) Alpine Tour ; (7) Barmouth and HaT : (8) Aberdaron ; (9) Bettws-yCoed, via Conway. Half-day tours : (1) Red Wharf and Benllech Bays ; (2) Amlwch and Bull Bay; and (3) Rhosneigr. Evening tours : (1) Llandudno (2) Penmon Priory; and (3) Llyn Ogwen. Fares for these tours will .probably be the same as last year, i.e., about lid. per passenger per mile.