PASSENGER TRAVEL NEWS.
28th April 1925
Page 23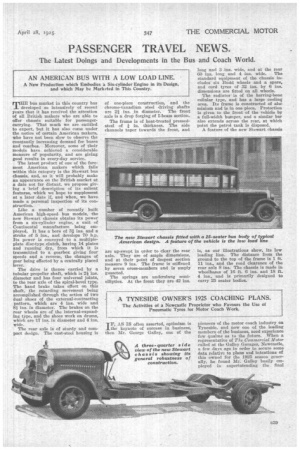 Page 23, 28th April 1925 —
PASSENGER TRAVEL NEWS.
Close
The Latest Doings and Developments in the Bus and Coach World.
........ ....... ....... ......................... ................. ...............
AN AMERICAN BUS WITH A LOW LOAD LINE.
A New Production which Embodies a Six-cylinder Engine in its Design, and which May be Marketed in This Country.
TEI] bus market in this country has developed so intensively of recent years that it has received the attention of all British makers who are able to offer chassis suitable for passenger. carrying. That much we are entitled to expect, but it has also come under the notice of certain American makers, who have not been slow to observe the constantly increasing demand for buses and coaches. Moreover, some of their models have achieved a considerable measure of popularity, and are giving good results in every-day service.
The latest product of one of the foremost American makers which falls within this category is the Stewart bus chassis, and, as it will probably make an appearance on the British market at a date not far distant, we propose giving a brief description of its salient features, which we hope to supplement at a later date if, and when, we have made a personal inspection of its construction.
Like a number of recently built American high-speed bus models, the new Stewart chassis obtains its power from a six-cylinder engine, a unit of Continental manufacture being employed. It has a bore of 31 ins, and a stroke of 5 ins., and develops 70 h.p. Its power is conveyed to a multipleplate disc-type clutch, having 14 plates and running dry, from which it is transmitted to a gearbox giving four speeds and a reverse, the changes of gear being effected by a centrally placed lever.
The drive is thence carried by a tubular propeller shaft, which is 2i ins. diameter and has four universal joints, to the rear axle of the spiral-bevel type. The hand brake takes effect on this shaft, the retarding movement being accomplished through the action of two dual shoes of the external-contracting pattern, which are 4 ins, wide and ins, in diameter. The brakes on the rear wheels are of the internal-expanding type, and the shoes work on drums, which are 17 ins, in diameter and 4 ins. wide.
The rear axle is of sturdy and compact design. The cast-steel housing is of one-piece construction, and the chrome-vanadium steel driving shafts are 21 ins, in diameter. The front axle is a drop forging of I-beam section.
The frame is of heat-treated pressed. steel of I in. thickness. The side channels taper towards the front, and are up-swept in order to clear the rear axle. They are of ample dimensions, and at their point of deepest section measure 9 ins. The frame is stiffened by seven cross-members and is amply gusseted.
The springs are underslung semielliptics. At the front they are 42 ins. long and 3 _ins, wide, and at the rear 60 ins. long and 4 ins. wide. The standard equipment of the chassis includes' six Budd wheels and a spare, and cord tyres of 32 ins. by 6 ins. dimensions are fitted on all wheels.
The radiator is of the herring-bone cellular type, and has a large cooling area. Its frame is constructed of aluminium and is in one piece. Protection is given to the front of the vehicle by a full-width bumper, and a similar bar also extends across the rear, at which point the petrol tank is disposed.
A feature of the new Stewart chassis
is, as our illustrations show, its low loading line. The distance from the ground to the top of the frame is 1 ft. 11 ins., and the road clearance of the rear axle 8 ins. The chassis is made in wheelbases of 16 ft. 6 ins. and 18 ft. 4 ins., and is primarily designed to carry 25 seater bodies.