NEW YORK: ITS ROADS AND ITS TRAFFIC PROBLEMS.
28th April 1925
Page 21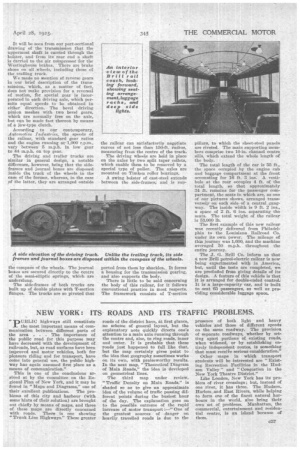 Page 21, 28th April 1925 —
NEW YORK: ITS ROADS AND ITS TRAFFIC PROBLEMS.
Close
" 101UBLIC highways still constitute
the most important means of communication between different Darts of the area . . . The importance of the public road for this purpose may Lave decreased with the development of railroads, but, as road surfaces have been improved and motor vehicles, both for pleasure riding and for transport, have come into general use, the public highWay has again assumed first place as a means of communication."
This is one of the conclusions arrived at by the committee on the Regional Plan of New York, and it may be found in "Maps and Diagrams," one of
their excellent publications. The problems of this city and harbour (with some hints of their solution) are brought out chiefly by means of maps, and three of these maps are directly concerned with roads. There is one showing "Trunk Line Highways." These greater
roads of the district have, at first glance, no scheme of general layout, but the explanatory note quickly directs one's attention to a inain axis running through the centre and, also, to ring roads, inner and outer. It is probable that these roads just happened to fall like that, but the map certainly gives point to the idea that geography sometimes works on its own, with praiseworthy results. In the next map, "Theoretical Diagram of Main Roads," the idea is developed on geometrical lines.
The third map under review, " Traffie Density on Main Roads," is shaded so as to give .an approximate idea of the volume of traffic passing different points during the busiest hour of the day. The explanation goes on to the possible outcome of the rapid increase of motor transport :--" One of the greatest sources of danger on heavily travelled roads is due to the presence of both light and heavy vehicles and those of different speeds on the same roadway. The provision of separate roadways, whether by setting apart portions of existing roads, when widened, or by establishing entirely independent routes, is something that must receih serious consideration."
Other maps in which transport students will be interested are "Existing Recreation Facilities in the Hudson Valley" and "Congestion in the New York Theatre District."
Like Landon, New York has its problem of river crossings ; but, instead of one river, it has three. The Hudaan, Harlem and East Rivers, while helping to form one of the finest natural harbours in the world, also bring their own set of problems. Manhattan, the commercial, entertainment and residential centre, is an island because of them.