Frog's new spawn
27th September 1980
Page 24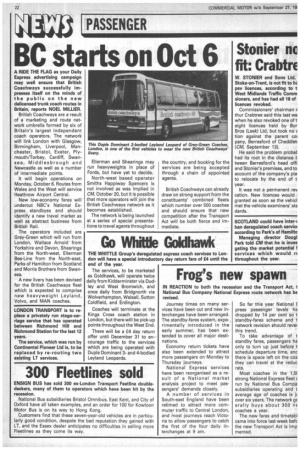 Page 24, 27th September 1980 —
Frog's new spawn
Close
IN REACTION to both the recession and the Transport Act, 1 National Bus Company National Express route network has be revised.
Journey times on many services have been cut and new interchanges have been arranged. The standby-fares system, experimentally introduced in the early summer, has been extended to cover all major destinations.
Economy return tickets have also been extended to attract more passengers on Monday to Thursday journeys.
National Express services have been reorganised as a result of a National market analysis project to meet passengers' demands closely.
A number of services in South-east England have been retimed to attract more commuter traffic to Central London, and most journeys reach Victoria to allow passengers to catch the first of the four daily interchanges at 9 am. So far this year National E press passenger levels ha dropped by 14 per cent so t 'standby-fares scheme and t network revision should revel this trend.
To take advantage of t standby fares, passengers ha only to turn up just before schedule departure time, anc there is space left on the coa they can travel at the reduc rate.
Most coaches in the 1,5( strong National Express fleet E run by National Bus Compa subsidiaries operating and t average age of coaches is jt over six years. The network gE erally buys about 300 nE coaches a year.
The new fares and timetabl came into force last week befc the new Transport Act is imp mented.