London Transport Drivers'
27th September 1946
Page 44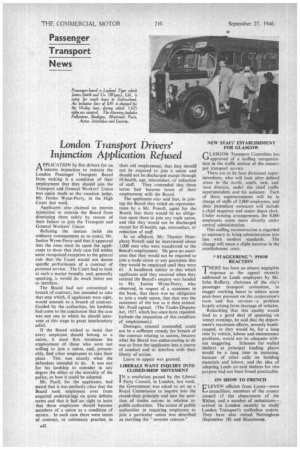 Page 47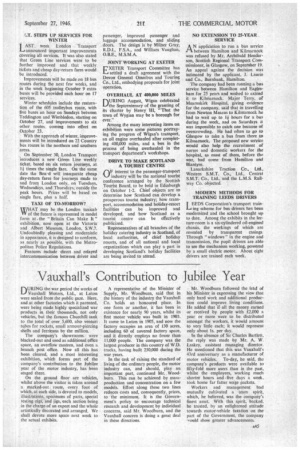 Page 44, 27th September 1946 —
London Transport Drivers'
Close
Injunction Application Refused
iNPPLICATION by five drivers for an interim injunction to restrain the London Passenger Transport Board from making it a condition of their employment that they should join the Transport and General Workers' Union was again made to the vacation judge, Mr. Justice Wynn-Parry, in the High Court last week.
Applicants also claimed an interim injunction to restrain the Board from dismissing them solely by reason of Their failure to join the Transport and General Workers' Union.
Refusing the motion (with the ordinary consequences as to costs), Mr. Justice Wynn-Parry said that it appeared that the onus must be upon the applicants to show that their case fell within some recognized exception to the general rule that the 'Court would not decree specific performance of a contract of personal service. The Court had to look at such a matter broadly, and, generally speaking, it would do much better not to interfere.
The Board had not committed a breach of contract, but intended to take that step which, if applicants were right, would amount to a breach of contract. Guided by the authorities, his lordship had come to the conclusion that the case was not one in which he should intervene at this stage to grant interlocutory relief.
If the Board wished to insist that every employee should belong to a union, it must first terminate the employment of those who were not willing to join a union, and, presumably, find other employees to take their place. This was exactly what the defendant -intended to do. It was not for his lordship to consider in any degree the ethics or the morality of the policy, or how it could be adopted.
Mr. Paull, for the applicants, had stated that it was perfectly clear that the Board took employees over from acquired undertakings on quite definite terms and that it had no right to insist that those employees should become members of a union as a condition of service. in each case there were terms of contract, or customary practice, in their old employment, that they should not be required to join a union and should not be discharged except through ill-health, age, misconduct, or reduction of staff. They contended that those terms had become terms of their employment with the Board.
The applicants also said that, in joining the Board they relied on representations by a Mr. Powell, agent for the Board, that there would be no obligation upon them to join any trade union, and that they would not he discharged except for ill-health, age, misconduct, or reduction of staff.
In an affidavit, Mr. Thomas Humphrey Powell said he interviewed about 1,000 men who were transferred to the Board's employment. He gave no assurance that they would not be required to join a trade union or any guarantee that they would be employed until they were 65. A handbook similar to that which applicants said they received when they entered the Board's employ was banded to Mr. Justice Wynn-Parry, who observed, in respect of a statement in the book, that there Atm no obligation to join a trade union, that that was the statement of the law as it then existed. Mr. Paull agreed. (The Trades Disputes Act, 1927, which has since been repealed, forbade the imposition of this condition of employment.) Damages, counsel contended, could not be a sufficient remedy for breach of the contract relating to unions, because what the Board was endeavouring to do was to force the applicants into a course of conduct and to interfere with their liberty of action.
Leave to appeal was granted.
LIBERALS WANT INQUIRY INTO CLOSED-SHOP MOVEMENT
IN a resolution passed by the Liberal I Party Council, in London, last week, the Government was asked to set up a Royal Commission to inquire into the closed-shop principle and into the position of trades unions in relation to public authorities_ The action of public authorities in requiring employees to join a particular union was described as meriting the "severest censure."
NEW STAFF ESTABLISHMENT FOR GLASGOW
GLASGOW Transport Committee has approved of a staffing reorganizafion in the traffic section of the municipal transport service.
There are to be four divisional superintendents, who will look after defined areas in the north, south, east, and west districts, under the chief traffic superintendent and his assistant. Each of these superintendents will be in charge of staffs of 2,000 employees, and their immediate assistants will include a chief inspector and senior depot clerk. Under existing arrangements, the 8,000 employees come more directly under central administration.
This staffing reconstruction is regarded as necessary to bring administration into line with modern standards. The change will mean a slight increase in the establishment costs.
." STAGGERING ": POOR . REACTION THERE has been an almost negligible I response to the appeal recently addressed to Leeds employers by Mr. John Rafferty, chairman of the city's passenger transport committee, to stagger working hours to relieve acute peak-hour pressure on the corporation's tram and bus services—a problem largely arising from shortage of vehicles.
Remarking that this apathy would lead to a good deal of queueing on winter evenings, he said that the department's maximum efforts, severely handicapped, as they would be, for a long time by vehicle, labour and maintenance problems, would not be adequate with out staggering. Schemes for walled shelters at principal loading places would be a long time in maturing, because of other calls on building materials and labour, and the idea of adapting Leeds air-raid shelters for this purpose had not been found practicable.
ON SHOW TO FRENCH
EELEVEN officials from Lyons—town councillors, members of the county council cf the Oepanment of the Rhone, and a number of technicians— arrived in London recently to study' London Transport's trolleybus system. They have also visited Nottingham (September 18) and Manchester.
LT. STEPS UP SERVICES FOR WINTER
LAST week .London Transport announced important improvements covering all services. It was also stated that Green Line services were to be further improved and that weekly tickets and cheap day-return fares would be introduced. .
Improvements will be made on 18 bus routes during the next few weeks, and in the week beginning October 9 extra buses will be provided each hour on 17 services.
Winter schedules include the restoration of the 605 trolleybus route, with five buses an hour on Sundays between Teddington and Wimbledon, starting on October 27, and improvements to six other routes coming into effect on October 23.
With the approach of winter, improvements will be introduced on 22 Country bus routes in the northern and southern areas, On September 30, London Transport introduces a new Green Line weekly ticket. based on six return journeys. at 14 times the single fare. On the same date the Boa.d will inaugurate cheap day-return fares for journeys made to and from London only, on Tuesdays. Wednesdays, and Thursdays, outside the peak hours. Prices will be based on single fare, plus a half.
TAXI OF TO-MORROW?
WHAT may be the London taxicab W of the future is represented in model form at the "Britain Can Make It" exhibition, now open at the Victoria and Albert Museum, London, S.W.7. Undoubtedly pleasing and modernistic in appearance, it is designed to conform, as nearly as possible, with the Metropolitan Police Regulations.
Features include direct and relayed intercommunirntion between driver and passenger, improved passenger and luggage accommodation, and sliding doors. The design is by Miler Gray, R.D.1., F.S.A., and William Vaughan, 0.B.E., JOINT WORKING AT EXETER XETER Transport Committee has settled a draft agreement with the Devon General Omnibus and Touring Co., Ltd., embodying proposals for joint operation, OVERHAUL AT 0150900 MILES
DURING August, Wigan celebrated Lithe Septcentenary of the granting of its charter by Henry III, "That the town of Wygian may be a borough for ever."
Among tile many interesting items on exhibition were some pictures portraying the progress of Wigan's transport, an oil engine overhauled after completing 400,000 miles, and a bus in the process of being overhauled in the transport department's workshops.
DRIVE TO MAKE SCOTLAND A TOURIST CENTRE
OF interest to the passenger-transport industry will be the national tourist conference arranged by the Scottish Tourist Board, to be held in Edinburgh on October 1-2. Chief objects are to determine how Scotland can develop a prosperous tourist industry; how transport, accommodation and holiday-resort facilities can be improved and developed, and .how Scotland as a tourist centre can be effectively publicized.
Representatives of all branches of the holiday catering industry in Scotland, of local authorities, of thief holiday resorts, and of all national and local organizations which can play a part in developing Scotland's holiday facilities are being invited to attend. NO EXTENSION TO 25-YEAR SERVICE
AN application to run a bus service between Hamilton and Kilmarnock was refused by Mr. Archibald Henderson, Scottish Regional Transport Commissioner, in Glasgow, on September 19. An appeal against the decision was intimated by the applicant, J. Laurie and Co., Burnbank, Hamilton.
The company had been running a bus service between Hamilton and Eaglesham for 25 years and wished to extend it to Kilmarnock. Major Terry, of Mearnskirk Hospital. giving evidence for the company, said that in travelling from Newton Mrnins to Kilmarnock he had to wait up to 14 hours for a bus during the week, and on Saturdays it was impossible to catch one because of overcrowding. He had often to go to Glasgow to take a bus from there to Kilmarnock. The proposed new service would also help the recruitment of nurses and domestic workers for the hospital, as most of them, before the war, had come from Hamilton and Blantyre.
Lanarkshire Traction Co, Ltd.. Western S.M.T. Co., Ltd., Central S.M.T. Co.. Ltd., and the L.M.S. Railway Co. objected.
MODERN METHODS FOR TRAINING LEEDS DRIVERS
LEEDS Corporation's transport training scheme for bus drivers has been modernized and the school brought up to date. Among the exhibits in the lecture-room is a six-cylindered oil-engined chassis. the workings of which are revealed by transparent casings Through " windows " in the engine and transmission, the pupil drivers are able to see the mechanism working, powered by a small electric motor. About eight drivers are trained each week.
Tags
Organisations
:
London Passenger Transport Board
,
High Court
,
Mearnskirk Hospital
,
Party Council
,
Scottish Tourist Board
,
municipal transport service
,
LASGOW Transport Committee
,
JOINT WORKING AT EXETER XETER Transport Committee
,
TOURIST CENTRE
,
Transport and General Workers' Union
,
LIBERALS WANT INQUIRY INTO CLOSED-SHOP MOVEMENT
,
EXTENSION TO 25-YEAR SERVICE
,
Royal Commission