Standard Starts Production of Tractors D E P R ES
27th September 1946
Page 43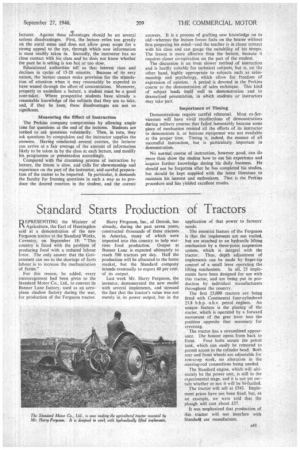 Page 43, 27th September 1946 —
Standard Starts Production of Tractors D E P R ES
Close
E NT N G the Minister of IX Agriculture, the Earl of Huntingdon said at a demonstration of the new Ferguson tractor at the Standard Works, Coventry, on September 18: " This country is faced with the problem of producing food with a reduced labour force. The only answer that the Government can see to the shortage of farm labour is to increase the mechanization of farms."
For this reason, he added, every encouragement had been given to the Standard Motor Co., Ltd., to convert its Banner Lane factory, used as an aeroplane shadow factory during the war, for production of the Ferguson tractor. Harry Ferguson, Inc., of Detroit. has already, during the past seven years, constructed thousands of these tractors in America, many of which were imported into this country to help wartime food production. Output at Banner Lane is expected ultimately to reach 500 tractors per day. Half the production will be allocated to the home market, but the Standard company intends eventually to export 60 per cent. of its output.
Last week Mr. Harry Ferguson, the inventor, demonstrated the new model with several implements, and stressed the fact that the tractor's value was not merely in its power output, but in the application of that power to farmers' needs.
The essential feature of the Ferguson is that the implements are not trailed. but are attached to an hydraulic lifting mechanism by a three-point suspension system, which is integral with the tractor. Thus, depth adjustment of implements can be made by finger-tip control of a small lever operating the
lifting mechanism. In all, 25 implements have been designed for use with this tractor, and are being put in production by individual manufacturers throughout the country.
The first 25,000 tractors are being fitted with Continental four-cylindered 23.8 b.h.p. o.h.v. petrol engines. An unique feature is the placing of the starter, which is operated by a forward movement of the gear lever into the position opposite that necessary for reversing.
The tractor has a streamlined appearance. The bonnet opens from back to front. Four bolts secure the petrol tank, which can easily be removed to permit access to the cylinder head. Both rear and front wheels are adjustable for row-crop work, no alteration in the steering-rod connections being needed.
The Standard engine, which will ultimately be the power unit, is still in the experimental stage, and it is not yet certain whether or not it will be bi-fuelled.
The tractor will sell at £343. Implement prices have not been fixed, but, as an example, we were told that the plough will cost about £37.
It was emphasized that production of this tractor will not interfere with Standate car manufacture.